The Venerable Bead. See it. Hear It. Touch it. Hologram-like, but it's ultrasound. (Page 1/2)
| | | |
| --- | --- | --- |
| | rinselberg | NOV 15, 05:53 AM |
With a single bead of plastic, scientists tease interactive 3D



quote

British scientists have developed moving three-dimensional images with sound and touch sensations based on a tiny plastic bead moved at high speeds.





quote

... the emerging technology has been able to produce small recreations of objects that people can interact with, and it is expected to have applications in architecture, design, biomedical imaging and medicine.




brief animation (GIF format)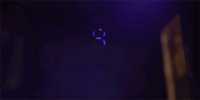 CLICK FOR FULL SIZE



YouTube video (2 minutes)
https://youtu.be/Ziz2kSEtUrg

NBC News report
https://www.nbcnews.com/sci...eractive-3d-n1082271

[This message has been edited by rinselberg (edited 11-15-2019).]
| | | |
| --- | --- | --- |
| | MidEngineManiac | NOV 15, 06:53 AM |
The first tiny step towards a real life holodeck brothal
| | | |
| --- | --- | --- |
| | maryjane | NOV 15, 11:03 AM |



quote

a real life holodeck




a contradiction in terms..
| | | |
| --- | --- | --- |
| | williegoat | NOV 15, 04:20 PM |
That reminds me of those displays at department stores in the '60s where they would have a vacuum cleaner suspend a beach ball in mid air.

Who knew that the Sears floor staff were actually futuristic scientists?
| | | |
| --- | --- | --- |
| | williegoat | NOV 15, 04:28 PM |



quote

Originally posted by MidEngineManiac:

The first tiny step towards a real life holodeck brothal



Uh....NO!



| | | |
| --- | --- | --- |
| | rinselberg | NOV 15, 05:59 PM |



quote

The Glass Bead Game is set in a distant, possibly post-apocalyptic future and tells the life story of Joseph Knecht, who at the beginning is a young initiate in Castalia, a monastic order of secular scholars. His fellow monks study various subjects, but they are linked by a vaguely defined activity called the Glass Bead Game. Hesse never explains the game, except to say that it involves all forms of knowledge, particularly mathematics and music. Knecht works his way up in the order, finally becoming the Magister Ludi, or master of the game.

All the while, Knecht is in touch with a childhood friend, Designori, who hails from a wealthy family and becomes an influential politician. Through a series of dialogues with Designori, Knecht becomes disillusioned with his life in Castalia, and at the end of the book leaves the order to become a tutor to Designori's son.



I read that book. It was "some time ago" and it was only that YouTube video from williegoat that prompted me to remember that.

Other than the book title itself, the experience of it is was all lost to (my) immediate recall. Now it's a moot point (what I might eventually have come to remember about it) because I looked at this very brief review.

Herman Hesse's The Glass Bead Game
"The difference between scholarship and wisdom."

Clay Risen (risen from clay?) for The American Scholar; November 9, 2015.
https://theamericanscholar....d-game/#.Xc8rTC3Mza8

[This message has been edited by rinselberg (edited 11-15-2019).]
| | | |
| --- | --- | --- |
| | randye | NOV 15, 11:15 PM |



quote

Originally posted by rinselberg:

I read that book.






PROVE IT.

You are already a documented LIAR here regarding books that you claim to have read and demonstrably DIDN'T.
| | | |
| --- | --- | --- |
| | rinselberg | NOV 30, 06:11 PM |



quote

Science-fiction movies portray volumetric systems that provide not only visual but also tactile and audible three-dimensional (3D) content. Displays based on swept-volume surfaces, holography, optophoretics, plasmonics or lenticular lenslets can create 3D visual content without the need for glasses or additional instrumentation. However, they are slow, have limited persistence-of-vision capabilities and, most importantly, rely on operating principles that cannot produce tactile and auditive content as well.

Here we present the multimodal acoustic trap display (MATD): a levitating volumetric display that can simultaneously deliver visual, auditory and tactile content, using acoustophoresis as the single operating principle.

Our system traps a particle acoustically and illuminates it with red, green and blue light to control its colour as it quickly scans the display volume. Using time multiplexing with a secondary trap, amplitude modulation and phase minimization, the MATD delivers simultaneous auditive and tactile content. The system demonstrates particle speeds of up to 8.75 metres per second and 3.75 metres per second in the vertical and horizontal directions, respectively, offering particle manipulation capabilities superior to those of other optical or acoustic approaches demonstrated until now. In addition, our technique offers opportunities for non-contact, high-speed manipulation of matter, with applications in computational fabrication and biomedicine.




"A volumetric display for visual, tactile and audio presentation using acoustic trapping"
Hirayama, R., Martinez Plasencia, D., Masuda, N. et al.
Nature 575, 320–323 (2019) doi:10.1038/s41586-019-1739-5; Issue Date 14 November 2019.
https://www.nature.com/articles/s41586-019-1739-5

[This message has been edited by rinselberg (edited 12-03-2019).]
| | | |
| --- | --- | --- |
| | randye | NOV 30, 08:50 PM |



quote

Originally posted by rinselberg:

What was I thinking?






You were thinking:

"Why can't I be like my Dad?

Why can't I be a real scientist instead of being drooling mentally ill and trying to pretend to be "intellectual" on an internet car forum?

Why do I obsessively cut and paste things from the internet that I really don't understand? (Ronaldphoresis)

Why do I bizarrely capitalize words in my sentences like "Original Post"?

Why can't I just be normal and not psychotic?

[This message has been edited by randye (edited 11-30-2019).]
| | | |
| --- | --- | --- |
| | rinselberg | DEC 01, 03:29 AM |
"The Venerable Bead"... hey, did you see that? You probably saw it, but did you really "see" it?

That's like the inimitable Control Enthusiast himself, Patrick Warburton, for National Car Rental.

Oh wait. That was me.