Introducing: "My PFF" (Page 1/11)
| | | |
| --- | --- | --- |
| | Cliff Pennock | APR 13, 06:39 AM |
In case you were wondering where your favorites are, they are no longer displayed at the top when you visit a forum section. They have been moved to a new feature of PFF: "My PFF".

If you visit a forum section, you will notice a small bar at the left of your screen: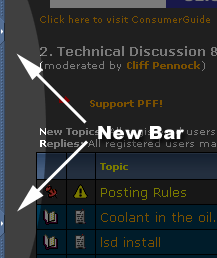 Clicking this will open the "My PFF Sidebar". The "My PFF Sidebar" contains all your favorites, the last 40 threads you posted in, and a "Friends List" (new, more on this later):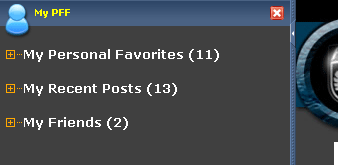 You can hide the sidebar again either by clicking on the "X" button in the top right, or clicking the small bar again.

To expand a list, simply click on the "plus" sign: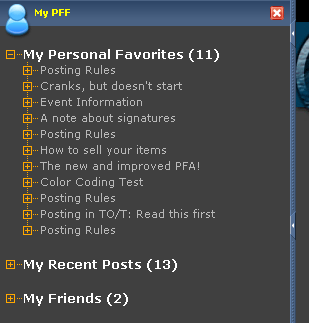 The "My Recent Posts" list contains the last 40 threads you posted in. You can go directly to a thread by clicking on the subject. To view more information about a thread in your list, click the plus sign next to the subject: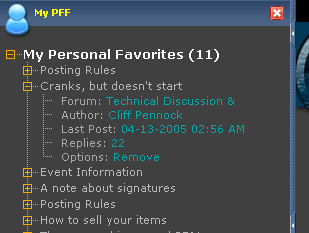 To remove a thread from your favorites list, click "Remove". You cannot remove a thread from your recents list.

The "My Friends" list is new to PFF. You can add members to this list so you can easily send them email or PM's. To add a member to your Friends List, click on the "Profile" button of a member inside a post: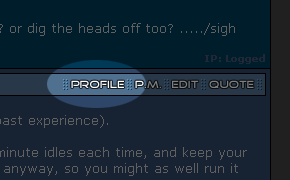 In the window that appears, click the "Friends List" link: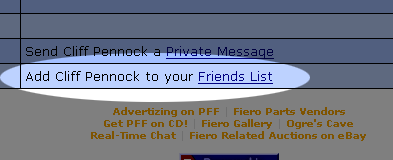 This member will now appear in your Friends List (a reload of the page might be necessary for it to show).

To view profile information of a member on your Friends List, click the username. To send an email, click the email address (the email address will not show if this particular member has chosen to hide his email address from other members). To remove this member from your Friends List, or to send this member a PM, click the appropriate option next to "Options":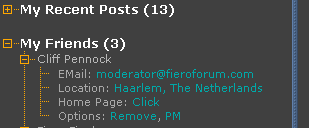 In short, that's what "My PFF" is all about. I will probably add some more cool stuff to the "My PFF Sidebar" in the future.


EFAQ (Expected Frequently Asked Questions)
Q: The sidebar looks like crap on my screen! It messes up my screen! I can't get rid of it! What have you done?
A: My PFF relies heavily on a 100% DOM-compatible browser. I've tested it on IE 5.x, IE 6.x, Mozilla and Firefox. I haven't tested it on Opera or any other browser. I also haven't tested it on a Mac. I will probably create a setting in your profile where you can completely disable My PFF if it messes up your screen.

Also, My PFF looks best on resolutions of 1024x768 and higher.

Q: I don't see a small bar on the left. What bar are you talking about?
A: My PFF is only available for registered members. And you need to be logged in to see it. Also, for now the sidebar is only visible in a forum section. So not on the forum's main page, and not inside a thread itself.

Q: My favorites list is way too long. I need to scroll for ages to reach my Friends List. Can you fix that?
A: First of all, your favorites list now list all favorites, not only the ones from the forum section you are visiting. Second, If your list is too long, try to make it shorter (duh). Do you really need to have the "Gwen Stefani" thread in your favorites?

Q: I only see the last 40 recent posts? I've posted in more threads than that in the last hour!
A: I've taken some arbitrary number. 40 seemed reasonable. If you want me to make that number higher, please let me know.

That's it. Any questions or remarks, please put them in this thread.
| | | |
| --- | --- | --- |
| | Cliff Pennock | APR 13, 06:55 AM |
Follow up: I just noticed a small bug under Win98 causing the sidebar to not show up. I'm looking into it right now (have been testing in XP only so far).

Edit: it's not a bug but a caching problem. If the sidebar doesn't show up, a [CTRL]-Reload/Refresh (or [SHIFT]-Reload/Refresh) might do the trick.
| | | |
| --- | --- | --- |
| | hugh | APR 13, 06:56 AM |
Thanks for all the work to make this the best place on the web!
| | | |
| --- | --- | --- |
| | 1MohrFiero | APR 13, 06:58 AM |
Awesome! Thanks Cliff, you always amaze me. Keep up the good work.

------------------


84 Sport Coupe
87 GT 5 Spd
| | | |
| --- | --- | --- |
| | Archie | APR 13, 07:18 AM |
Wow, I like that.

Cliff, if you & I weren't already the same person, I'd wanna' grow up to be just like you.

Archie

| | | |
| --- | --- | --- |
| | Musmaro13 | APR 13, 07:22 AM |
Sweetness, I have hoped for something like this for awhile now.
| | | |
| --- | --- | --- |
| | Cliff Pennock | APR 13, 07:24 AM |
quote
Originally posted by Archie:
Cliff, if you & I weren't already the same person, I'd wanna' grow up to be just like you.
But if we were one and the same person, we'd also need to seek professional help. Talking to yourself on an internet forum isn't healthy.

| | | |
| --- | --- | --- |
| | Kohburn | APR 13, 07:28 AM |
I was runnign xp - and couldn't figure out why my favorites disapeared and why i couldn't add anything to the fav's then found this thread and had to refrehs a few times before the sidebar would show up.. looks great though - love the recent posts section

hmm I can't seem to remove anything from my favorites

[This message has been edited by Kohburn (edited 04-13-2005).]
| | | |
| --- | --- | --- |
| | ohioindy | APR 13, 08:24 AM |
Nice wok Cliff
That's what I like about this place…always something new.
Thanks


------------------


85 SE (My first love)
84 Indy 4 Speed
84 Indy Auto 44,000 miles
| | | |
| --- | --- | --- |
| | dguy | APR 13, 08:28 AM |
Nice! The page takes a while to reload here every time I show or hide the sidebar (IE's status bar claims 200 or so items to download!), but really... how many times does one need to show/hide the bar in one sitting anyway?

Haven't yet tried it via dial-up from home though. That might be interesting.

Above & beyond, Cliff. Above & beyond.

[This message has been edited by dguy (edited 04-13-2005).]