Rebuild of Indy Fiero #163 Super Duty 4 (Page 1/27)
| | | |
| --- | --- | --- |
| | fierosound | NOV 03, 08:53 AM |
As it looks today (not your stock Indy...)
What sets it apart mechanically is the Super Duty 4 race engine with 5-speed Getrag.




DESPITE ALL THE HOOPLA, all 2000 of the consumer version of 1984 Fiero Indy Pace Car is mechanically just the same white 2M4 SE it started out as.
All SE's have the WS6 performance suspension and quick ratio steering rack.

The Indy Package (RPO Y82) added a new Aero-nose fascia, ground effects, new rear fascia and wing with interior and exterior cosmetic packages.
There were a couple cosmetic touches on its stock 4-cylinder 92hp "Iron Duke" engine and dual exhaust added.
Other than a choice of automatic or manual transmission, all the Indy models performed the same as any other 20-second 1/4 mile "Iron Duke" Fiero.

Indy #163 was sold to me by Chester (I'm 3rd owner) with a 3.3L SD4 engine and TH125 automatic.

Many of you know from my threads that I started working on an 84 project in 2006.
My first post Sept. 3 2006 http://www.fiero.nl/forum/A...070315-2-076520.html

Here's the thread on the car's condition when I started working on it right after it arrived.
Lots of pics. http://www.fiero.nl/forum/Forum2/HTML/095615.html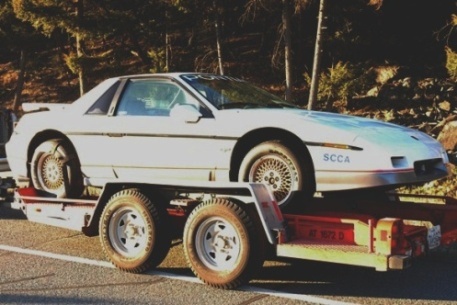 ------------------
My World of Wheels Winners (Click on links below)


3.4L Supercharged 87 GT
and Super Duty 4 Indy #163
[This message has been edited by fierosound (edited 03-04-2019).]
| | | |
| --- | --- | --- |
| | fierosound | NOV 03, 01:26 PM |
I was too embarrassed by true condition of my "mint car" when I started working on the car 2 years ago in secret.
http://www.fiero.nl/forum/Forum2/HTML/095615.html

These pics were taken in late 2006 after I started disassembling the car.


Once the engine was out and in the shop, the first order of business was getting some basic mechanicals cleaned up.

The front bodywork had already been pulled off to examine the how extensive some prior accident damage
(that was NEVER mentioned to me ) had been. After cleanup/touchup of everything, it was reassembled.




Here's the cleaned/painted front suspension parts. Although I replaced the worn steering rack bushing and tie-rod ends (only 19,000 miles on the car??),
once the car was driveable, it steered terribly and adjustment of the pinion pre-load was never able to correct the inherent looseness.
I eventually replaced the entire rack with another one from Pick 'n Pull.




Here's the front suspension reassembled. I scrapped the original rusted rotors, and used "like new" rotors I removed from my GT when I did the Lebaron rotor brake upgrade.
New SS brake lines, calipers and Porterfield R4-S pads make up the new braking system. I later installed a new master cylinder when it became apparent the old one was no good.




The ball joints were replaced - MOOG "problem solvers" on the upper, and Dickman's 1" lowering balljoints on the lower.
Monroe shocks were installed on the front. Energy suspension poly bushings were used for the sway bar and 4" long endlinks.
I also decided to install the front springs that came off my GT (thinner wire). The suspension actually moved now.



Part numbers
Energy Suspension PN 9-5158 - black poly sway bar bushings for 7/8" bar w/brackets
Energy Suspension PN 9-8118 - 4" endlinks with black poly
Monroe front shocks PN 5921
Moog upper (problem solver) ball joints PN K5292

At the rear, the balljoints seemed OK and left in place. After cleanup and painting of the control arms, Prothane poly bushings were installed.
New Monroe struts and Eibach rear springs were purchased for installation when the cradle would be reinstalled.




I had an '86 cradle that I cleaned up and painted for the new engine and transmission.
The control arms were installed and the Addco rear sway bar was fitted.




As for the braking system, new SS brake lines, calipers and Porterfield R4-S pads were also installed on the rear.
In addition, all 3 parking brake cables were replaced.

Part numbers
Monroe rear struts PN 71814
Prothane control-arm bushings PN 7-304
Addco sway bar (rear) PN 387

[This message has been edited by fierosound (edited 01-10-2020).]
| | | |
| --- | --- | --- |
| | KurtAKX | NOV 03, 01:50 PM |
quote
Originally posted by fierosound:






Nevermind. I just realized the cradle is upside down from how i thought it was.

[This message has been edited by KurtAKX (edited 11-04-2008).]
| | | |
| --- | --- | --- |
| | KEV | NOV 03, 05:53 PM |
It's looking great! I'll be doing the same thing to my Indy this winter!

------------------





1999 GMC Jimmy 2dr 4x4
1996 Chevy Lumina LS



1986 Fiero Base Coupe...NO OPTIONS !!
1985 Fiero GT 3800 N/A-sometime this year 3800S/C..maybe


1984 Fiero Indy-Restoring back to former glory
| | | |
| --- | --- | --- |
| | Bremertonfiero | NOV 03, 07:40 PM |
| | | |
| --- | --- | --- |
| | fierosound | NOV 03, 07:55 PM |



quote

Originally posted by Bremertonfiero:

where do u get Sd parts?




This engine came with it. Use the LINK in the first message to see the details.

New stuff can be bought here: http://www.kansasracingprod...About_the_Block.html

[This message has been edited by fierosound (edited 11-03-2008).]
| | | |
| --- | --- | --- |
| | Bremertonfiero | NOV 03, 08:09 PM |
yeah i know about them but like 10 grand for the whole thing.... is there cheaper? or am i dreaming

| | | |
| --- | --- | --- |
| | fierosound | NOV 03, 11:47 PM |
| | | |
| --- | --- | --- |
| | Mister | NOV 04, 01:26 AM |
I've seen this car in person. And Fierosound has done an amazing job on it


Stay tuned - you are in for a treat

------------------


T-Top ~HUD~LEDs ~Red Fieros~Carputer~Reverse lights
| | | |
| --- | --- | --- |
| | The_Stickman2 | NOV 04, 02:13 AM |






Not a bad price for a complete engine plus a spare intake, valve cover, and 3 heads.