In August of 2000, I was thinking of getting a sports car again. Since I was able to drive I had always been into fast cars. After looking into getting a Mitsubishi 3000 GT VR4, I decided that I could not afford one. Needless to say, my insurance company was not thrilled about it either.
I had an 87 Fiero GT from 87 to 91 and decided to get one again. The 87 GT I had then was a summer project for me. I am a technology education teacher in a high school. I was looking for a project to spend the summer working on. I found a rebuildable wrecked 1987 GT in mid 1987 and the car only had 2000 miles on it and was still under factory waranty. It was sweet with all options including the rare suede tan leather seats and looked much like this one. I kept the car till 91 when my two daughters were too big to strap in side by side.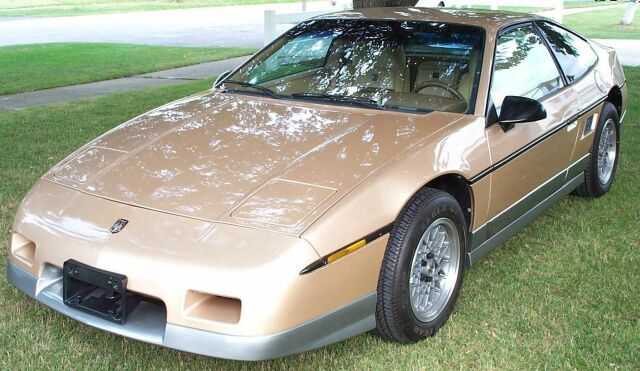 In my search to find one again, I looked up information about Fieros on the Internet. I found out by luck the Fiero Dutch Classic show was going to be happening in two days and was only 10 miles from my house. Vonnie and I attended the show just to see them. I saw Jeff Dedays car, which was a mint 88 red GT t-top. It was the first t-top I had ever seen. I didnít know they were even made. Here is a picture of Jeff with his low mileage sweet 88 GT. It had only 6000 miles on it at the time. I knew that was the model of car I wanted. Finding a good red 88 GT T-TOP is not an easy thing to do and it took months of looking.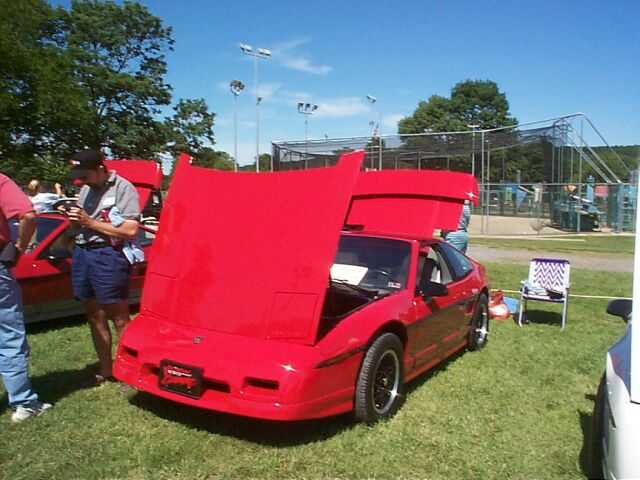 That day at the show Vonnie also decided she wanted an 88 GT. She found hers first, a sweet 88 GT she bought in September.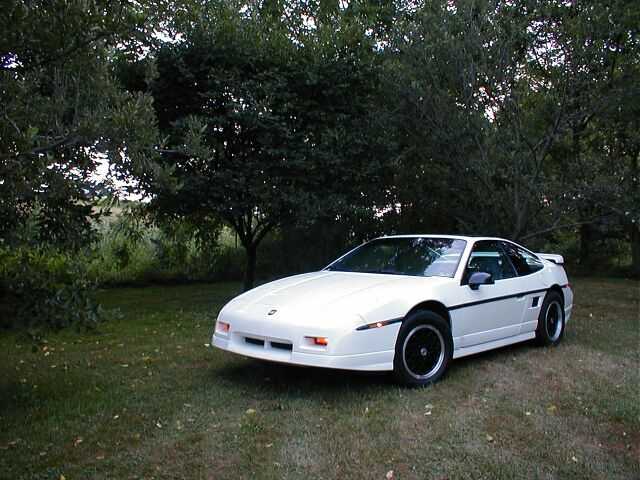 After looking at hundreds of Fiero photos I was determined to get a red 88 GT T-Top with the beechwood interior and gold wheels. I found one listed for sale in the Michigan Fiero club website. I emailed the person and they sent several emails some with pictures including this one.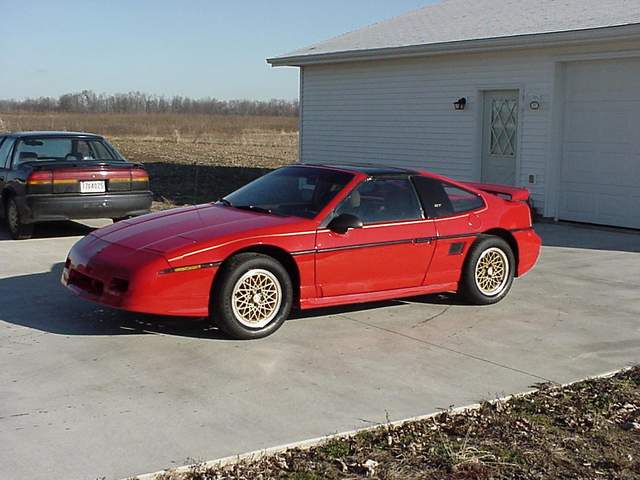 I had a long phone conversation with someone that obviously knew a lot about Fieros. He told me that he was selling it for a woman in town that had the car for a long time. I was told it was in rough condition with only 66,000 miles on it. Well I know this picture does not look too bad but it needed a lot of work. The paint was fair but had been poorly repainted on the nose, left front fender and drivers door. The interior was very dirty and dingy from a heavy smoker. It was so heavily smoked in I had to disassemble the gauges to clean the white numbers because they were brown. The tires needed replaced, and the pin stripe had to go. Rocker panels and quarter windows needed replaced. The T-top weather stripping needed replaced in addition to the driverís door panel and front fender. The car had been driven daily in Indiana year round. I decided to get the car sight unseen for a fair price.
I hopped a Greyhound bus for an all night trip from PA to Indiana. After a grueling 10-hour bus ride, a great guy, Chris Moore, met me at the bus depot in Fort Wayne, Indiana. At this point in my Fiero life I had not shown a car, and was unaware who Chris was. Well you could imagine my reaction when we went inside the garage seen in the above photo. Inside were three, yes three, red 88 GT t-tops. Chris also had his Northstar convertible but he made me promise not to mention it since he wanted to surprise the Fiero world with it that spring. Also he had his other awesome Northstar Fiero as well as his brotherís cool Fiero in the garage. Unfortunately the car I was buying was the worst one in the garage but I was inspired to change that. After taking care of the title, I started driving it home.
After 50 miles I needed to stop for gas and when I drove away I noticed the automatic trans slipped. Later while stopping for a turnpike toll both I noticed it slipped a lot. I stopped and checked the trans fluid and none registered on the dipstick. Yikes! I filled it up and had to stop every 1/2 tank and refill it. Now I was doing this during my Christmas vacation so wouldn't you know it, Great Lakes effect snows started blowing real hard. The Fiero was all over the road and I was only able to follow a tractor-trailer tire tracks because the snow was getting a few inches deep. Well after about 12 hours of driving I got home and the car was totally white from road salt. It had a front manifold leak so I tried to fix it and of course the bolt broke so the second day it was home the engine/trans/cradle were on the floor. I figured it was a perfect time to detail the engine compartment, engine, cradle and suspension. I spent two evenings sitting inside the engine compartment cleaning everything. Vonnie worked hard on detailing the suspension and cradle for me. The leaking automatic transmission leak was also repaired with a new pan gasket.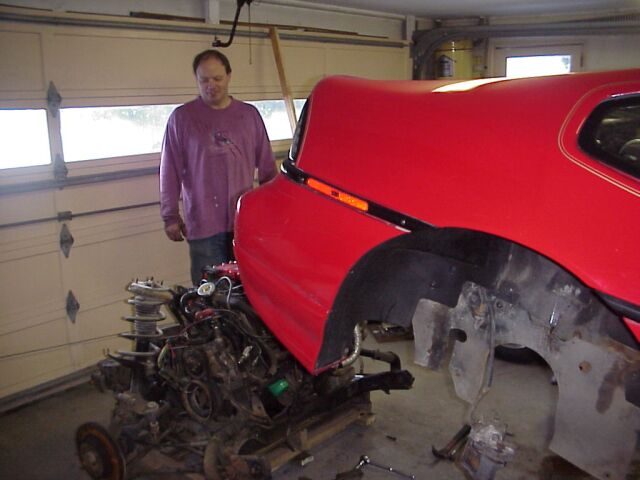 ------------------



Red 88 GT T-Top 3800 Supercharged
White 88 GT Stock
Please give me a rating if you appreciate my contribution.
[This message has been edited by skitime (edited 06-20-2003).]
[This message has been edited by skitime (edited 08-11-2003).]
[This message has been edited by skitime (edited 11-14-2004).]