Where to get a new(used) engine in 2021 (Page 1/2)
| | | |
| --- | --- | --- |
| | statue4 | APR 05, 03:09 PM |
I can't wait to get rid of my 2.8. I still haven't decided what to replace it with yet, but my Fiero is my daily, so something easy that won't keep the car out of service for months at a time. I am wondering what some good sources for engines, or even entire donor cars, are nowadays. Do most people just buy a donor car off of craigslist? The local junkyard (LKQ Wilmington, CA) is IMO overpriced and a junkyard engine seems questionable. Or buy a donor car off of salvage auction?


| | | |
| --- | --- | --- |
| | Mike in Sydney | APR 05, 09:03 PM |
You can to to Jegs, and get the ATK Engines Remanufactured Crate Engine for 1993-1995 GM F-Body with 3.4L V6 (Part Number: 059-DCC9). This is a Vin Code S engine with iron heads and a 36-month warranty. You will need to swap over some parts and move the starter to the other side of the engine. Alternatively, you could have the 2.8 rebuilt.
| | | |
| --- | --- | --- |
| | Dennis LaGrua | APR 05, 09:29 PM |
Buying an engine from a junkyard is a crap shoot. Can you verify the mileage?? Are you looking for an easy bolt in or an engine swap? At times buying used you can get something very good while at other times you get the shaft. A few years ago I purchased a 4.9L/4T60e powertrain off a 93 Deville with 66K on the OD. I saw the OD on the car and verified the mileage. The junkyard said don't worry "the car ran great" so they pulled the engine out and I installed it. The engine proved to be in very good shape..... but when I tried to run it we found the transmission was blown. I just ordered a rebuilt unit. So out come the cables, water lines, axles, mounts, and the cradle. Unless you can get a powertrain from a running vehicle, hear the engine, and test the trans you are buying in the blind. In my case I purchased cheap ($675 for both) so I guess that I shouldn't be that disappointed.


------------------
" THE BLACK PARALYZER" -87GT 3800SC Series III engine, custom ZZP /Frozen Boost Intercooler setup, 3.4" Pulley, Northstar TB, LS1 MAF, 3" Spintech/Hedman Exhaust, P-log Manifold, Autolite 104's, MSD wires, Custom CAI, 4T65eHD w. custom axles, Champion Radiator, S10 Brake Booster, HP Tuners VCM Suite.
"THE COLUSSUS"
87GT - ALL OUT 3.4L Turbocharged engine, Garrett Hybrid Turbo, MSD ign., modified TH125H
" ON THE LOOSE WITHOUT THE JUICE "
| | | |
| --- | --- | --- |
| | cvxjet | APR 05, 11:55 PM |
I have the 3.4 L F-body swap in my car.....Although the total power change is only 20 HP, the torque goes up 30 and it all happens at lower "R"s....which is like installing a better rear-axle ratio. My Fiero now gets 0-60 in 6.5 seconds and the 1/4 in 14.8...Not very impressive above 60 MPH but startling off the line...

This swap utilizes the stock induction system, the only changes are the oil pan, front cover and starter mount....Rodney makes a jig to drill the starter mounting holes. This is actually a legal swap in CA- GM only makes the 3.4 block to replace all of the 60* V6 blocks (2.8, 3.1, 3.4).

I also went from 22/28 to 20/30 mpg. Been driving it for 20 years with this mod.

I like that it looks stock (I liked the look of the stock engine) but if you do a little runnin' and then can tell them, "It's a Stock Fiero" It kinda blows people's minds......
| | | |
| --- | --- | --- |
| | Curlrup | APR 07, 09:33 PM |
Wait a minute. Hold on....that crate engine just st bolts right in? Move the starter, attach intake, valve covers, different oil pan and bolt in and done? No rewiring, not messing?
| | | |
| --- | --- | --- |
| | cvxjet | APR 08, 01:02 AM |
Cor-rect-O-mundo! Sounds the same, looks the same but runs substantially harder- and no added weight, either.....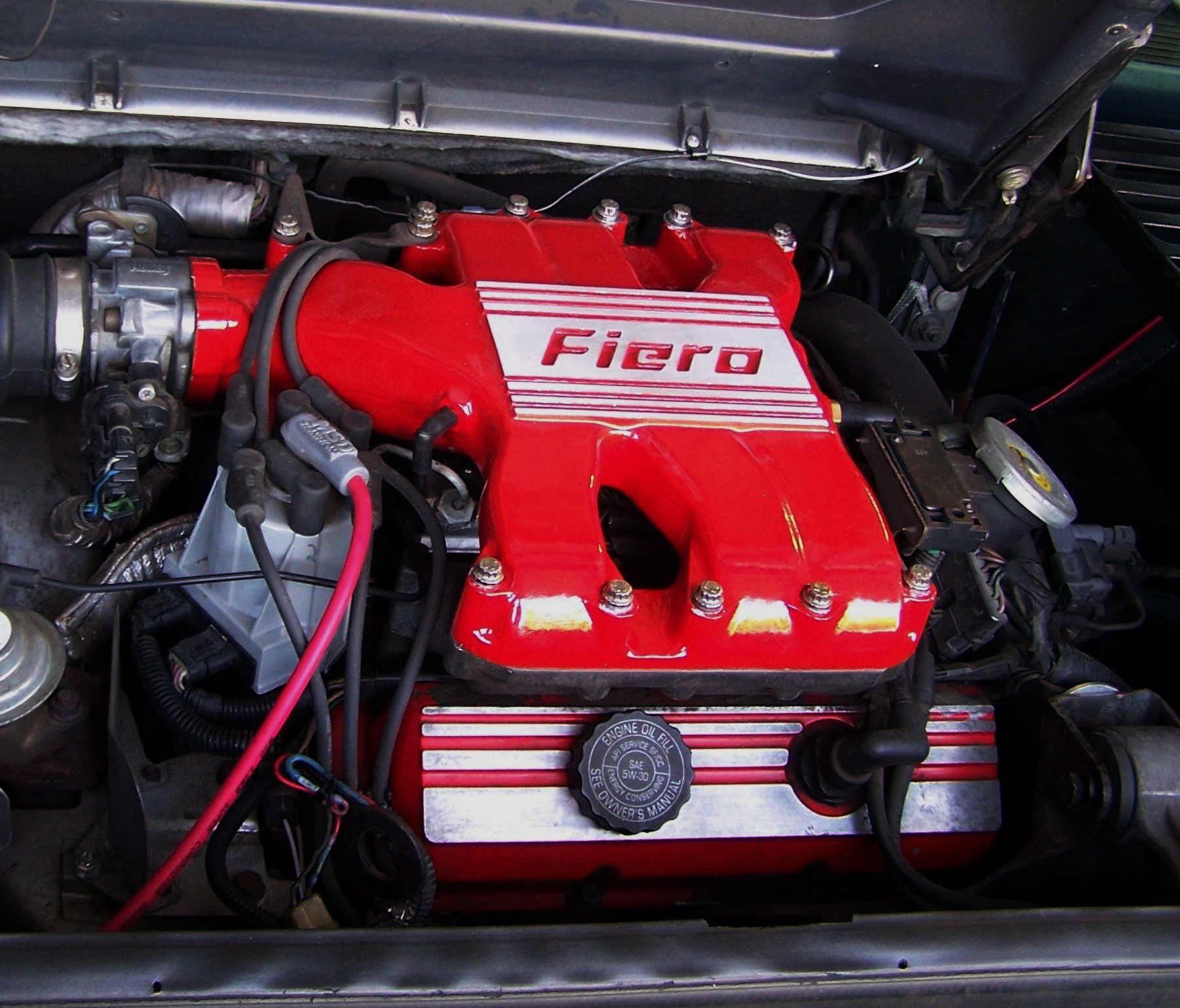 | | | |
| --- | --- | --- |
| | Mike in Sydney | APR 08, 01:10 AM |
Yep. Almost a direct bolt in. Look in the archive for the 1993-1995 Camaro-Firebird 3.4L V-6 (GM F-Body with 3.4L V6 ). This is a Vin Code S engine with iron heads. This swap uses the stock induction system, the only changes are the oil pan, front cover and starter mount and Rodney Dickman makes a jig to drill the starter mounting holes. No rewiring. Some folks go to the 17lb injectors in lieu of the stock ones. 20 more ponies, 30 more torqs.

If I was doing this swap, I'd be changing the injectors, replacing the motor and transmission mounts, refreshing the bushings in the dogbone, and take the opportunity to replace the alternator with a CS130 unit.

Good luck.


| | | |
| --- | --- | --- |
| | Curlrup | APR 08, 08:03 AM |
I had no idea. Of course I never owned a 2.8 until a week ago. So I was already thinking what I would potentially replace it with one day.
| | | |
| --- | --- | --- |
| | statue4 | APR 08, 03:31 PM |
I'm guessing that a DOHC 3.4 would be easier than a 3800 swap because the DOHC is still a 60degree V6. Is that true? The pushrod 3.4 swap sounds okay but I figure if I'm going through the effort of swapping the engine it would be nice to get at least 200 crank hp. Not building a speed demon or anything, though.
| | | |
| --- | --- | --- |
| | cvxjet | APR 08, 04:46 PM |
The 3.4 F-body Long block swap requires no certification and no wiring or programming modes...Basically plug and >>Go play<<

The 3.4 DOHC requires a lot of modifications, including wiring and programming....And then you have to get it certified.


Mots Fiero V6s tested went 0-60 in 7.5-8.5 seconds......With the 3.4 F-body swap my car is getting to 60 in 6.5 seconds and thru the 1/4 in 14.8.......I will admit that if you are at 70 mph on the freeway and want to do 120 this swap won't blow your mind, but at lower speeds it is a real eye-opener....Several friends and a few acquaintances have ridden in my Fiero and reacted with shock after I have taken off from a stop.