Why is everything on this car hard lol (Page 1/2)
| | | |
| --- | --- | --- |
| | thejinx13 | MAR 21, 11:09 PM |
Okay, brake question. 86 GT Automatic. Well, 2 questions.

The car lacks stopping power. I don't have excessive pedal, nor is it difficult to press. I bled the system and I didn't note any improvement. I swapped the fluid as it looked old, and replaced the rubber lines. (Thank you Fiero Store)

Which is question 1. The middle bracket on the front lines is riveted in. Great. So I drilled out the rivet, easy enough. Then I tried to replace it with just a nut and bolt which is when I realized if I had the hands of a 12 year old girl there was still no way for me to get my hand behind there to feed it through. What method have folks come up with for re-securing that line?

And question 2. Even after that I still have no stopping power.

I am doubting it's a booster or master based on the pedal. And even OBD 1 would throw a code for a vacuum leak (I think) and I can't imagine all 4 calipers are bad. Rotors and pads look fine. No leaks, lights or strange noises. (Car has about 52,000 miles) Any ideas?

Thanks very much for your help.

Chris
| | | |
| --- | --- | --- |
| | olejoedad | MAR 21, 11:26 PM |
Have you checked rear brake adjustment?

Does the parking brake work and is it used on a regular basis?

Have you checked the caliper slide pins for easy movement?
| | | |
| --- | --- | --- |
| | thejinx13 | MAR 21, 11:50 PM |
Sorry, yes the parking brake does work and seems properly adjusted. (Forgot to mention it) I haven't specifically checked the slide pins, but I will hopefully tomorrow.
| | | |
| --- | --- | --- |
| | skywurz | MAR 22, 12:00 AM |
Have you gone to the ogre's cave and looked at his section on brakes ?
| | | |
| --- | --- | --- |
| | Mike in Sydney | MAR 22, 05:53 AM |



quote

Originally posted by thejinx13:

Which is question 1. The middle bracket on the front lines is riveted in. Great. So I drilled out the rivet, easy enough. Then I tried to replace it with just a nut and bolt which is when I realized if I had the hands of a 12 year old girl there was still no way for me to get my hand behind there to feed it through. What method have folks come up with for re-securing that line?

And question 2. Even after that I still have no stopping power.





Q1: Try using a self-drilling Tek screw to fasten the middle bracket. Home Depot, Lowe's, etc. should have these. Try to use the same rivet hole but if you can't use the rivet hole, move the bracket over a bit and drill in the Tek screw.

Q2: Try replacing the pads with a softer compound pad. I like Wagner TQ pads. Others don't. Softer pads will dust more, though. You could also think about doing the S10 booster upgrade. It's simple and the results are noticeable. Check the archives for details.



| | | |
| --- | --- | --- |
| | Dennis LaGrua | MAR 22, 06:36 AM |
With a properly working and adjusted brake system you should be able to lock the wheels. We have found that original master cylinders that have been cycled thousands of times are often worn and inefficient. If you are still running your 30+ year old master cylinder that might be the problem.
| | | |
| --- | --- | --- |
| | theogre | MAR 22, 09:27 AM |
1. Carefully use a jack to lift the CA on one side to get more clearance.
Bolt should pointed out of CA, the Bracket, and finally the nut. A thin bold head is best too. When done, you see the nut and bracket.
⚠️ Caution: when jacking watch out for grease fitting on Lower BJ. Jacking on them can break them.

2. Could be many issues cause "bad" brakes.
See my Cave, Brake Service and rest of section.

Examples:
Sticky sliders can cause brakes to drag the pads and overheat and fade or cause too much pad clearance.
Rear brakes w/ bad pistons can cause Low Pedal but not always. "Bad" pistons can cause fade problems too. Front pistons/seals can get jammed by crap in the bore and just don't work right. Iffy Rear pistons, see cave...

Pads can have problems too.
Pad can get oil etc on them causing to glaze over.
Dragging pads can cause same.
Glaze pads cause performance problems even when cold.
Rarely but possible, someone use "race pads" and many of those don't work in normal driving because pads never get Hot Enough and stay hot to work for street driving.

------------------
Dr. Ian Malcolm: Yeah, but your scientists were so preoccupied with whether or not they could, they didn't stop to think if they should.
(Jurassic Park)

The Ogre's Fiero Cave
| | | |
| --- | --- | --- |
| | Kitskaboodle | MAR 22, 12:52 PM |
Here's a little trick I learned to put in a screw and nut when you can't get your hand behind something.....in this case the upper control arm: Take your nut (and washer too) and Super Glue it to the flat end of a long tie-wrap. Position the tie-wrap behind the control arm till you have the nut over the hole (might have to bend the tie-wrap to get it in there in proper position) then hand thread the screw through the front till it's snug. Then, use a screwdriver to tighten it the rest of the way. The Super Glue should let go by this time.

I learned this trick while putting in some new Dorman power window motors in my Reatta.
Kit
| | | |
| --- | --- | --- |
| | Blacktree | MAR 22, 01:07 PM |
Like Ogre mentioned above, if you use a bolt to attach the brake line, you should have it pointing out (i.e. toward you). If the bolt is pointing in, then the end of the bolt might contact the suspension spring at full droop.

Also like mentioned above, you could superglue the bolt to a chopstick (or something similar), and feed it in. Thread on the nut, and remove the chopstick.
| | | |
| --- | --- | --- |
| | cvxjet | MAR 22, 01:30 PM |
To hold a nut where your fingers can't fit, get a pair of Hemostats.....(Like pot-heads use)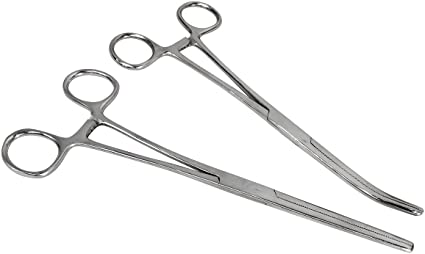 And I only smoked pot once(1983)- Could not reNember where I parked the car- Which wouldn't have been so bad but I was IN the car at the time! (Actually, I knew I was IN the car, I just couldn't remember what street I was on)