Ford F150 or the Silverado 1500? (Page 1/2)
| | | |
| --- | --- | --- |
| | DanFiero | NOV 20, 12:26 PM |
So my daughter totaled our truck (Ranger) about a month ago and we are needing to replace it. I'd like to move up to a bigger (used)truck that can handle more things, especially towing. Trying to decide between the F-150 or the Silverado 1500.

F-150 - Prefer the V8, don't know much about the turbo charged Ecoboost v6 (not a fan of Turbos).

Silverado 1500- Don't know much about this truck at all.

Any tips or opinions would be helpful

Thanks,

Dan
| | | |
| --- | --- | --- |
| | Phirewire | JAN 25, 07:00 PM |



quote

Originally posted by DanFiero:

So my daughter totaled our truck (Ranger) about a month ago and we are needing to replace it. I'd like to move up to a bigger (used)truck that can handle more things, especially towing. Trying to decide between the F-150 or the Silverado 1500.

F-150 - Prefer the V8, don't know much about the turbo charged Ecoboost v6 (not a fan of Turbos).

Silverado 1500- Don't know much about this truck at all.

Any tips or opinions would be helpful

Thanks,

Dan





Do you have a year range you are looking at?

I can tell you newer and older wise but they years change the issues and consideration, also pros and cons to each.

As far as the new models go, I do test driving and condition reporting the new Ecoboost trucks i've found underwhelming. I don't know in regards to towing but overall performance wasn't anything to write home. Now Pro and con your fuel economy and how often you will tow and this could change. Don't forget to consider long term cost on turbos and maintenance though. In my opinion fords interiors are significantly better both in looks and how they hold up. Silverados really haven't changed much, pretty much point and shoot alot more simplicity where the ford have multiple options engine wise and have transitioned alot over the years. AVOID the old fords.


| | | |
| --- | --- | --- |
| | TM_Fiero | JAN 25, 09:16 PM |
Depending on the years the F150 has has issues with engines, the Triton V8 had issues with spark plugs breaking off in the heads, the Ecoboost engines had issues with the timing chains stretching and needing replacement, which is very expensive. The Silverados had issues with the brakes throughout the years whether it was the brake lines rusting out or the ABS systems acting up and you put your foot to the floor and don't slow down.

The Rams/Dodges 5.7 Hemi breaks the exhaust manifold bolts every so often that results in an annoying exhaust tick. This happened on the 2013 Ram I had, which only had 35,000 miles on it. Traded it on a Tacoma that I have now.

If you live in a winter/salt environment you're probably aware they all like to rust out the rockers and bedsides, frame and so on.


| | | |
| --- | --- | --- |
| | olejoedad | FEB 04, 08:10 AM |
My son has a Silverado - great truck....
| | | |
| --- | --- | --- |
| | DimeMachine | FEB 06, 05:56 PM |
I had a 74 ford and a 78 chevy. Chevy was much better.

I had a 98 ford and a 01 chevy. Chevey was much better.

Now I have an 08 chevy.

All were trucks b/t/w.

Still on the fence - look under the hood of each. Which one would you want to work on . It is obvious!!!

Good luck.
| | | |
| --- | --- | --- |
| | Raydar | MAR 21, 07:53 PM |
I recently traded my 05 Silverado 1500 for a new Ram 1500. The only reason I traded is because I needed 4WD.
The Silverado actually seemed happier about towing our small box trailer than the Ram does. Although this may be because the Silverado had the usual 4 speed 4L60/65E trans, while the Ram has an 8 speed. The Ram just seems to be "busier". Not necessarily a bad thing. Just different. Neither one was overtaxed.
With my lead foot, the Silverado got ~15 MPG in my day-to-day driving. Had the 5.3 (pre-DOD/AFM is preferred, IMHO) and was quite bulletproof. The earlier DOD/AFM models had issues with oil consumption, and chewing up lifters and (I think) cams.

Ford? Know nothing about them.

[This message has been edited by Raydar (edited 03-21-2020).]
| | | |
| --- | --- | --- |
| | hnthomps | MAR 23, 10:24 AM |
I can speak a bit about the Ford products since I have owned several of them (99, 06, 10, 19). I do not have specific experience with the F150 truck, but have owned four Expeditions which are essentially F150s with a rear cover. All were rated to tow up to 9000 pounds without the factory tow package. Three of the Expeditions had the Triton V8 engine and I had no real issues with them other than a few alternators and one instance of battery harness corrosion. I also had to replace the coil packs in the 2006 vehicle due to failures over a period of a few months. All of these first three Expeditions had over 150K miles when showing on the odometer when sold and are still in service today.

Three of them (06, 06, 10) were used for towing 5K+ loads. I did see a MPG drop of 4 to 5 MPG when towing the car trailer and a Fiero/Mera on 1000 mile plus trips. Normal MPG on the road was in the 18-20 range without a towed load. The new Expedition has about 3500 miles on it now, but I have not used it to tow anything so far. It has the twin turbo V6 engine and routinely sees 23-24 MPG on the highway even when running the A/C. I do not believe that you can even purchase an Expedition with the Triton engine anymore so I decided to see how the V6 worked out. The HP rating for both engine types are in the mid 300 range (IIRC) and torque is also somewhat similar.

In my opinion (for what it is worth) the F150/Expedition is a decent vehicle. If I purchase a specific truck to be used for towing, I would also consider one of the diesel powered vehicles and would look closely at the Dodge Ram truck.

Nelson
| | | |
| --- | --- | --- |
| | robymon | APR 29, 10:30 PM |
I own a '16 Ford F150 SuperCrew and I'm very happy with it. It rides nice and the build quality is good. The 5.0 has plenty of power and gets decent gas mileage. The interior is quite roomy. The rear passengers can sit comfortably. I installed a CAI and leveling kit from 4wheelonline and the rest is stock.
| | | |
| --- | --- | --- |
| | DanFiero | MAY 01, 06:08 PM |
Forgot about this post last December we ended up finding a 2011 F150 with the 5.0 V8 with about 72k on the clock. So far it's been a great truck, getting a few bugs fixed on Monday.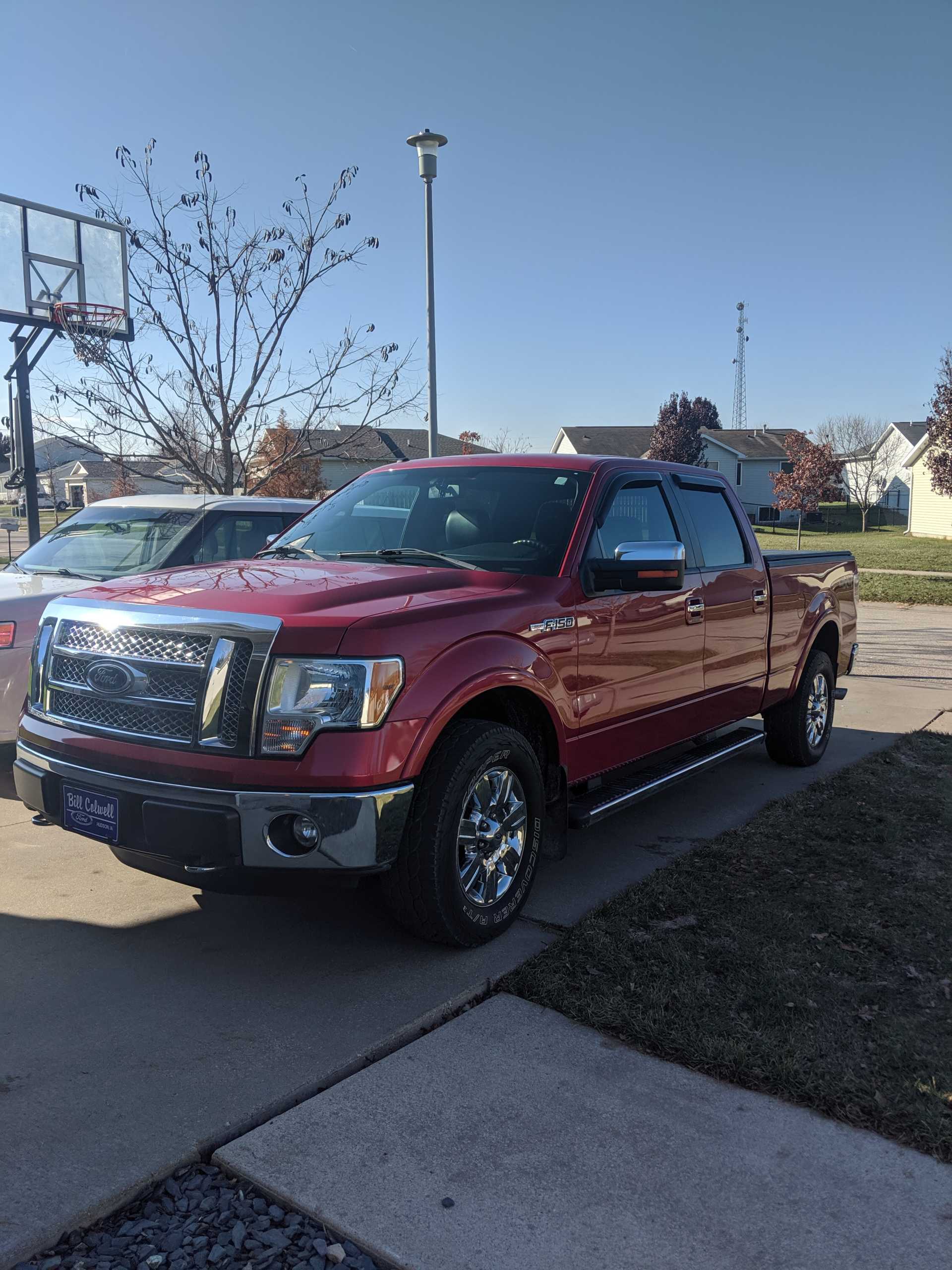 | | | |
| --- | --- | --- |
| | ls3mach | MAY 01, 07:40 PM |
I'm not that keen on the Coyote engine. I do love my Ford trucks. The 5.0 is tons better than the 4.6 though. I've had almost all the engines except EcoBoost.