Help with rims and tires.. (Page 1/1)
| | | |
| --- | --- | --- |
| | Easy8 | JUL 21, 11:07 PM |
So I am looking to replace my current rims, the car has coilovers on the rear as well as big brakes. I am looking at these

https://www.summitracing.com/parts/KNG-MY8851043R

So for an off set rim size uneducated.... am I looking at failure or will these work?
| | | |
| --- | --- | --- |
| | IMSA GT | JUL 21, 11:28 PM |
I'll let more people chime in but if my math is correct, those should fit just like the stock 15" wheels.

Edit to add......assuming this is NOT a 1988?

[This message has been edited by IMSA GT (edited 07-21-2021).]
| | | |
| --- | --- | --- |
| | Australian | JUL 22, 06:10 AM |
I can't imagine being a great look once they are on have you ever seen them on a car? Show off crappy brakes.
| | | |
| --- | --- | --- |
| | cvxjet | JUL 22, 12:30 PM |
They may fit but; I had some relatively heavy 15" aftermarket wheels on my car from 1990 thru 2007....I was looking for good performance tires and couldn't find anything for 15" wheels....So, i decided to move up to 16s...But I had recently read an article which really emphasized the problems of un-sprung weight.

I did some research and found some great wheels (16 x 7 VOXX Monza) that were lighter than my 15s....I also went with General G-Max tires which are very highly rated All-Season performance tire....They were a few lbs lighter than my previous BFG Comp TAs.

I reduced the weight at each front corner by 6 lbs and 3 lbs at each rear...Doesn't sound like much but the difference in feel on the car was amazing. The car road and handled better (Not talking traction- Talking the feel)....And the straight-line performance was very obviously better.

Moral of the story; It is well worth your time and effort to try to find the lightest wheels for your Fiero- Modern cars have fancy electronic shocks, aluminum suspension, etc to help them deal with the huge wheels they now must put on them for "Style"...The Fiero suffers very badly by going to a very heavy wheel/tire setup.
| | | |
| --- | --- | --- |
| | Raydar | JUL 23, 11:31 AM |
Wheel Size:
18x8

Offset:
+43.00mm

It's quite possible that the inside lip will hit some of the machinery. (Struts, control arms, etc.)
Try to find something with a 35mm offset. I'm pretty sure those will fit.

Edit - Sorry. I missed that you have coilovers. That will help. What year is your car? Is it lowered?

[This message has been edited by Raydar (edited 07-23-2021).]
| | | |
| --- | --- | --- |
| | Easy8 | JUL 25, 07:34 PM |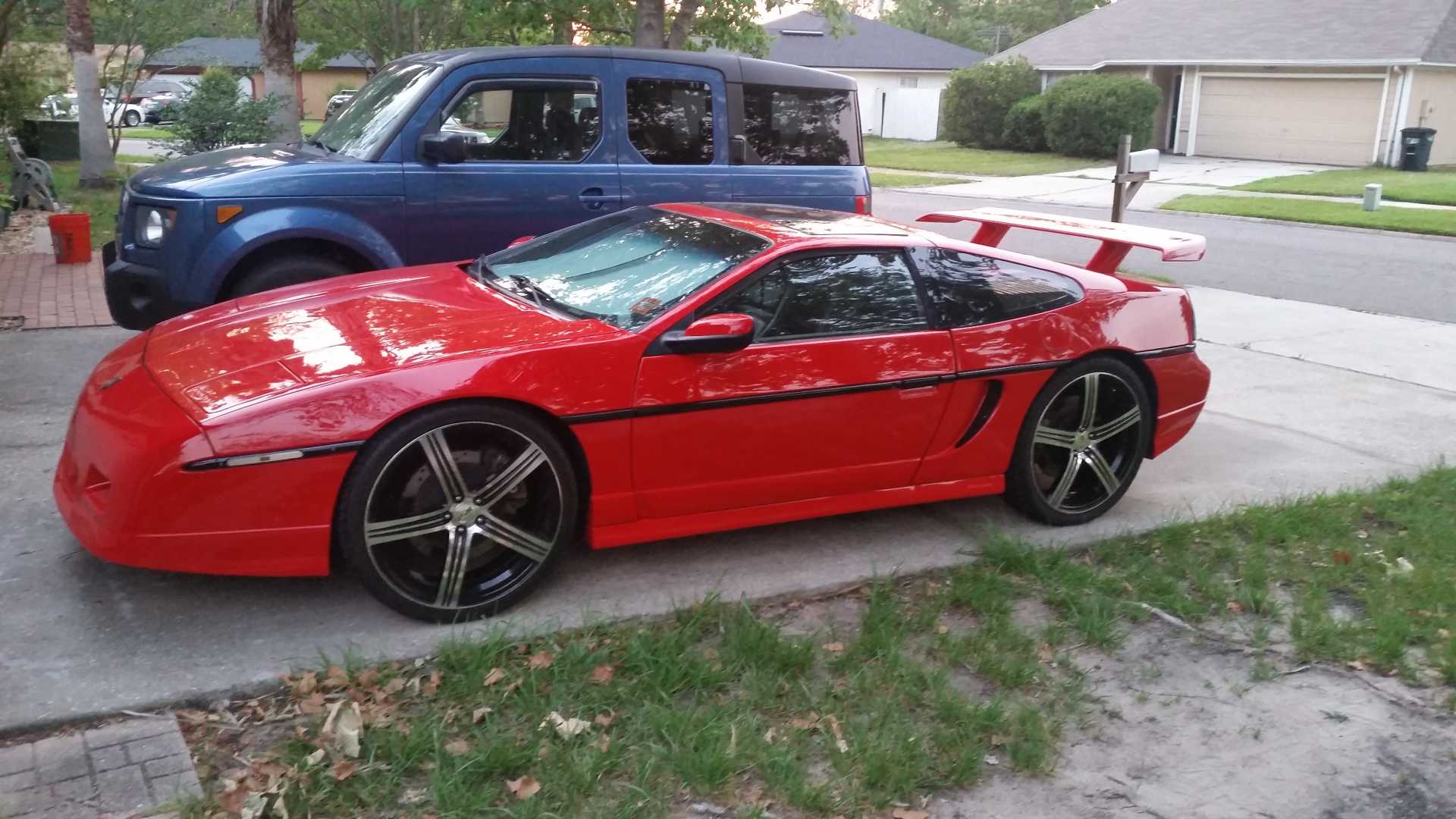 quote

Originally posted by Raydar:

Wheel Size:
18x8

Offset:
+43.00mm

It's quite possible that the inside lip will hit some of the machinery. (Struts, control arms, etc.)
Try to find something with a 35mm offset. I'm pretty sure those will fit.

Edit - Sorry. I missed that you have coilovers. That will help. What year is your car? Is it lowered?







It's an 86, with stock ride height. The car currently has MSR 20'S with 245/35 tires. I am not sure of the offset on these rims (I did not install them) it also has Vet/Viper brakes. So small rims are out of the question.

[This message has been edited by Easy8 (edited 07-25-2021).]