All,
(April Post)
The BOP event was a success in that we had five cars entered three 88 fastbacks, one top a that took first place in the unrestored category for the whole show (and there were a bunch in the category) an Indy and an 84 Iron Duke.
The folks that were there had a few discussions about our next proposed get together for a TECH EVENT. The "dew wipes" replacement seemed to be very popular with the AZ sun drying out the parts as we sat there. There are a few issues. We need a good candidate car and an owner with the parts sets. The candidate car needs a door disassembly up front to be sure that the door panels are removable without being damaged and that the screws are in "good enough shape " to be removed without drilling them out. My Michigan and Indiana cars are probably out of the running as the winter and the rain there have probably destroyed all of those elements. Then the owner will need all the replacement parts (dew wipe, screws, "Christmas tree" plugs and you may need new felt pads). So if you think you have a candidate car do your tear down and let me know if you have a clean project car. If we don't find a clean car we will likely be doing a lunch run somewhere in late May or early June. We haven't been West of town yet. Any suggestions?
(May Post)
Here we go again – I lost April. And I am out of town for most of May.
Time sure does seem to go by rapidly.
I did not get a post 2017 BOP post out to the Pennock site with the pictures of the five cars that were entered. So here we go.
Rear View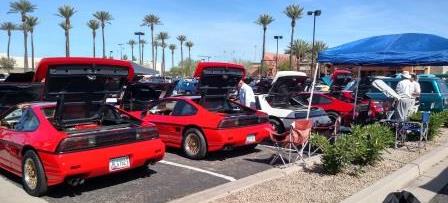 Trophy Cars plus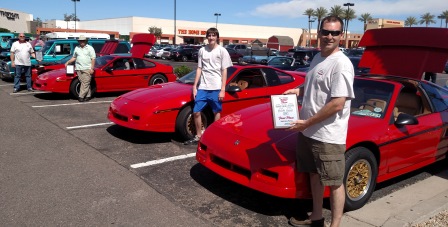 The 88 red Fastback, the first in the line of five (back view), took the best in the unrestored class, one of the largest groups in the show. Good showing Kyle?l. His second red Fastback car was right next to the first. You can never own just one!
Plans are forming for the dew wipe replacement event are forming – but not really set. A likely patient car, Brandon's 88 red Fastback has been offered up, and two garages have been offered for the late may planned event. No firm date has been set. I'll be attempting to get the volunteers to pick a time and place that will work for them and will get a posting out soon. Till then wishing you all a get late spring drive some where in the little two seaters.
Best
Best
KevinS