The Community Partner an event to benefit The ALS Association is holding their 2nd annual car show Saturday May 1 2010 with the rain date May 2 held at the Wagontown Fire House Wagontown PA 19376. The cost is $25.00 per entry with a show limit of 185 cars. Foe info please contact Tom Scamuffa 610-383-5577 or Holly Lerch 717-442-4169. I attended this show last year just to look and it seemed a real nice and friendly crowd. I think this year I will show my GT. All the proceeds go to a good cause The ALS Association.
PS at the dinner they even have beer.
Earl
------------------
1986 Fiero GT now a 4.9,Getrag 5 speed, 18" 225's on front 18" 265's on rear, KYB's, Front & Rear Sway Bars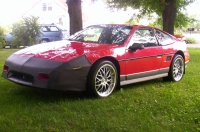 Any day that you remain above ground is a good day!