Fierorama is only a few months away!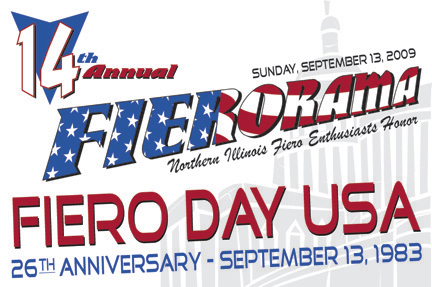 We would like to thank The Fiero Store for sponsoring Fierorama 14 this year.
We have alot of Saturday, September 12, 2009 Events planned. Here is a list of events that we have planned. A full detailed write up will be posted a little later to here and on
www.fierofocus.com
Saturday list of Events:
8:00am - Fierorama Breakfast @ Host Hotel, St. Charles, IL
All Day - Lowden State park Cruise, Oregon, IL
All Day - Pheasant Run Resort, St. Charles, IL
All Day - Volo Auto Museum, Volo, IL
All Day - Festival of the Vine, Downtown Geneva, IL
All Day - Grand Victoria Casino Riverboat on the Fox, Elgin, IL
All Day - PGA - BMW Championship @ Cog Hill, Lemont, IL
2:00pm, 3:00pm & 4:00pm - Paddlewheel Rides ont the Fox River, St. Charles, IL
3:00pm - Fiero History Seminar @ Host hotel, St. Charles, IL (Presented by Fred Bartemeyer)
6:00pm - Fierorama Pizza Party @ Gino's East, St. Charles, IL
Evening - Cascase Drive-In Movie Theatre, St. Charles, IL
Please consider pre-registering for this event. It is so much easier for all involved to plan activities if we have a good idea of attendance in advance. NIFE members and guests are FREE. Non-NIFE member's registration is $10.00 or become a NIFE member for $25 and receive the Award Winning Fiero Focus magazine for the balance of 2009 and all of 2010 and attend Fierorama FREE.
Fierorama link:
http://www.fierofocus.com
Pottawatomie Park link:
http://www.st-charlesparks....pottawatomiepark.htm
Hope to see you there!