Here is another reminder notice about the upcoming annual NEFA
Kick Hill swap meet on April 20 at Bob Parkers in Lebanon CT.
You can see more info about this great upcoming annual Fiero event by
going to the calendar section of
www.fieropride.com
or e-mail me directly.
We have changed the date for this event to an earlier one, to better
accommodate those who are working on their Fieros for the upcoming show
season and would be in the market for some great deals on needed Fiero
parts. Their will be many Fiero vendors there selling both common, not so
common and hard to find Fiero parts at great prices. The savings my family
alone has experienced at this annual event in the past for our fleet is
incredible.

We hope to see many Fiero owners there, even if you are not a member of
the club. It is open to ALL Fiero lovers. Whether you go to enjoy the
excitement of a huge Fiero only swap meet and pick up some great values,
or just for the fun and Fiero camaraderie, everyone is guaranteed an
enjoyable and memorable day.

We will also have raffles and door prizes, as well as, a few added Fiero
surprises. So mark your calendars (if you haven't allready) and don't miss
this great upcoming annual NEFA event!

Again, if you have any questions, feel free to e-mail me anytime.

We look forward to seeing you there.

Steve Kelley
NEFA events director
Plainfield, NH

------------------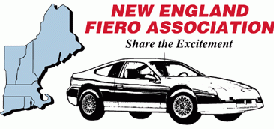 Upcoming Club Events
Get your Club T-shirt & window Sticker
[This message has been edited by NEFA (edited 04-14-2002).]