From one of our events directors.
I'm happy to begin the 2002 Events Calendar announcements with 2 Tech
Sessions that we have set up.
The first is on Feb 9 (no rain date) at my house in Hingham, MA (just
south of Boston). I have a 2-car garage with my 88 3.4 Formula catacorner
in it for plenty of room to move around it. By the time February rolls
around, the car will be halfway through a Formula-to-GT body conversion, it
will have the cradle assembly removed, but almost everything will still be
on it (pretty much except for the intake and headers). Details on this one
are a little further down, read on.
The second Tech Session will be at Andy Virzi's house in Milford, NH on
May 4 (rain date May 5). Andy will demonstrate various methods to bring your
fiero's paint up to a car-show shine. He will take a few cars with various
condition paint, and show everything from wet sanding and buffing to final
polishing. Just in time for Carlisle!! There will also be a pot-luck BBQ
afterwards.
Here's the current thoughts on the tech session topics for the Feb 9
session:
Polyurethane (rear) control arm bushings
1.6:1 Rocker installation (applies to V-6 cars only - 2.8, 3.1, 3.4)
Power Side Mirror Conversion
New Carpet Installation
Obviously, we will be doing the sessions somewhat parallel, and won't
spend a lot of time doing prep or finish work. What we will show you are
the most difficult steps.
Other possible topics might include:
Re-locate the battery to the front compartment
Headliner Replacement
E-brake cables/rear caliper re-building
Rear decklid release switch
88 Headlight rebuild
I can also describe pretty clearly my method of dropping the cradle, and I
have a feeling there will be others there to show off their methods.
Please RSVP to me if you plan on attending either or both sessions, and
let me know which items you are most interested in so we can tailor the
offerings to your interests. But we aren't going to try 'All of the
above'!!
Both tech sessions will run from 10:00 am until approximately 2 or 3 in
the afternoon. Directions will be sent as the date approaches.
Hope to see you there!
- Brian Ream
- brianream@hotmail.com
NEFA Events Director

------------------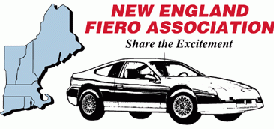 Upcoming Club Events
[This message has been edited by NEFA (edited 01-23-2002).]