Please help us pick a car for the next issue of Fiero pride. We need one
NEFA and one MAFOA nomination.
This column will feature a car owned by a MAFOA member and a car owned by
an NEFA member. The featured cars will be chosen by YOU! Just e-mail your
nomination to either me or Jen. The cars that receive the most nominations
will be
featured in our next issue! They can be either stock or modified. ALL
NOMINATIONS MUST BE RECEIVED NO LATER THAN DECEMBER 5! PLEASE HELP US:-) I
already did my voting.
Fierochic88@hotmail.com
or
fiero64@mediaone.net
------------------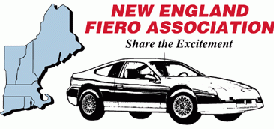 Upcoming Club Events