I had symptoms appear on September 29th after an emergency work trip to one of our facilities in Iowa. I picked it up there, where no one was respecting social distancing or wearing a mask.
I was tested on October 1st and received the positive result later that night, and I am now hospitalized as of the evening of 10/7. My wife has also tested positive after my return, I gave it to her before I knew I had it. Her symptoms are very mild.
I have been documenting this on my Facebook page and letting people share it. I want to post this here as well so you can all see it. I will be sharing all of my Covid related posts, including my stupid humor ones here.
Symptoms I have had:
Diarrhea
Sweats
Fever and Fever Cycling
Violent chills
Nausea
Vertigo
Severe headaches
Weakness in limbs
Loss of consciousness
Pressure in the chest
October 1st:
Thank you all for the birthday wishes today.
My day started off like any other, with a covid test, a poke and prod at the brain through the nostril, and a late night email with a positive result.
I spent my day feeling pretty rough, but just sitting on my butt and watching movies.
I guess we'll see how this works out...
October 2nd:
Aaand there goes my sense of smell and taste.
October 3rd:
The worst part so far about covid is losing my senses of smell and taste... This means the big crockpot of chili that I made today did nothing to appease my hunger from a palate perspective...
The best part about losing my sense of smell and taste is that I won't have to worry about the aftermath of a big bowl of chili tomorrow.
From my wife: October 4th:
Chris update. COVID is really starting to drag him down. He's currently in bed, which is unheard of for him, even when he's been sick in the past. So far, no significant respiratory problems except a moderate, dry cough.
The good news is that the Door Dash guy who delivered our groceries on Saturday told him, "the COVID test is only 50%" whatever that means and he just has the flu. So, whew, dodged a bullet there!
In all seriousness though, we appreciate all of the well wishes and offers to help out if needed. We greatly appreciate it! We'll keep riding the wave, hoping it's just a little one and that Chris will recover without significant symptoms or long term complications.
October 4th:
Chris' Covid Contingencies...
Hoping for the best, planning for the worst.
In the event something happens to me, I have one major ask of a volunteer...
Clear my browser history. Don't look at it. Just clear it in its entirety...
That is all.
October 6th:
Chris' Covid Chronicles
I snap wide awake every morning between 1 and 4 AM with a splitting headache that never goes away, just gets less intense intermittently throughout the day. Usually I have a fever to go along with it. This morning, my temp is 102.6. I can not get back to sleep, and attempts to nap during the day are usually unsuccessful.
Speaking of fevers, my temperature constantly fluctuates between about 97 and 101 multiple times per day with bouts of extremely violent shivering or sweating like a turkey that was invited to Thanksgiving dinner. This mornings temp is the highest so far.
I am not having issues breathing, unless I exert myself. I have no energy to even climb the stairs to head to the restroom. I can take deep breaths without issue but it triggers the need to cough and it's difficult to catch my breath if I get into a coughing fit. I'm not coughing too often, but I have my moments.
Every muscle and every joint aches so badly. Ibuprofen doesn't touch it and neither does Tylenol or aspirin.
I have no appetite, and no desire whatsoever to eat. I don't feel hungry even when I haven't eaten all day so I have to force myself to eat which makes me nauseous sometimes. I can't smell anything, and can taste if something is sweet or salty, but I get no other flavors out of anything.
Yesterday I spent most of the day feeling detached from my body. It felt as if my arms and shoulders and legs weren't mine but would respond when I would tell them to. Extreme vertigo, having to lean on the walls when trying to move, and instability and weakness in my legs combined with the aches and pains makes it difficult to do anything.
Coincidentally everything I am going through right now is identical to what hit me at the beginning of February. I was sick for over a month then but was told it was the flu.
Cindy has been amazing... She is absolutely the best thing that has ever happened to me and I am blessed to have her in my life. I wouldn't make it through this on my own, as I tend to drive myself to exhaustion and not take the time to rest.
October 6th:
I spoke with my doctor earlier today and he said that if I really want to kick covid's butt, I need to start listening to some Kenny G. He said the best thing in the world to get over almost any illness is a healthy dose of saxual healing.
October 7th: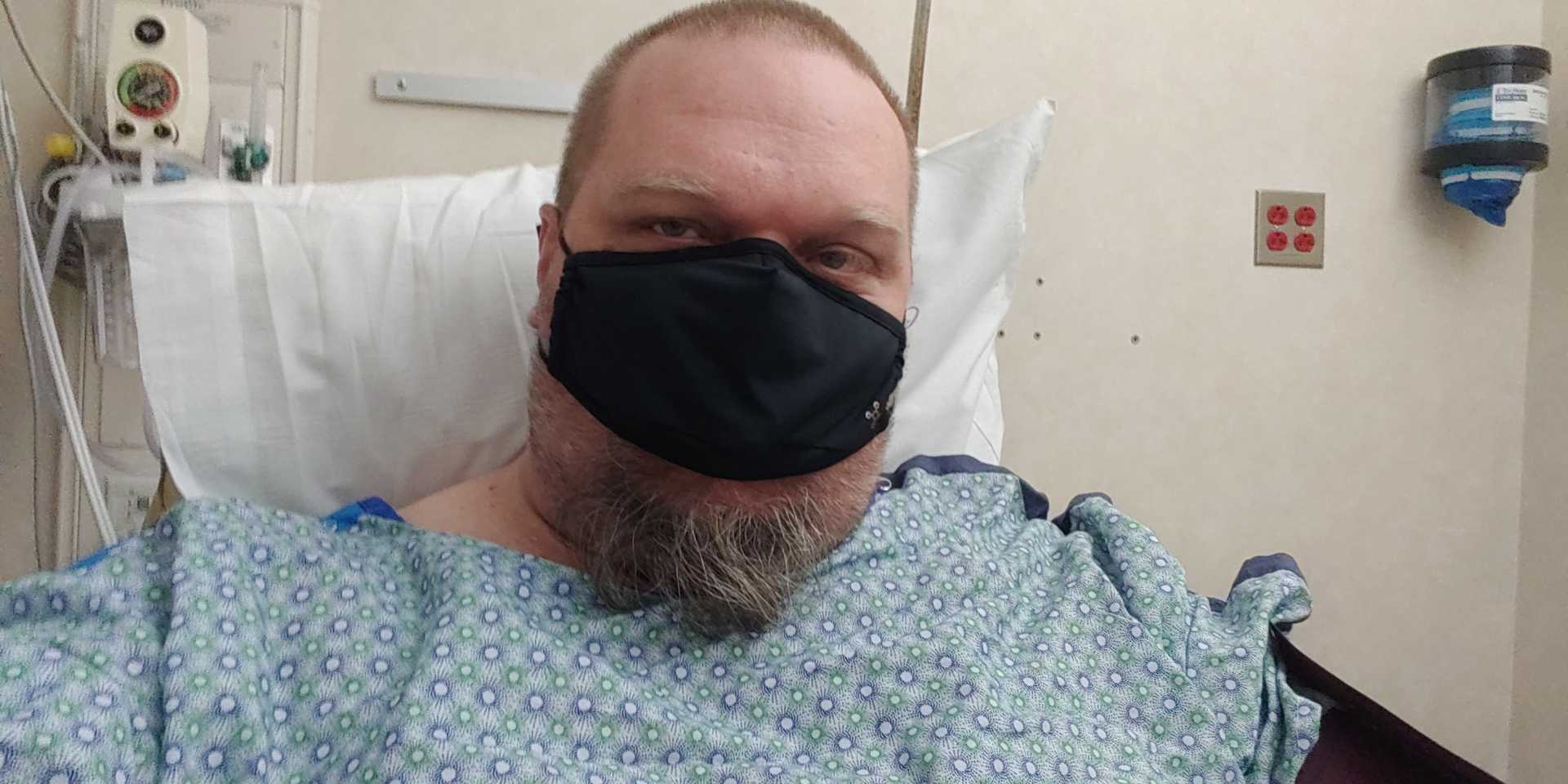 Your nose is connected to the same set of lungs that your mouth is. If your mouth lungs have covid, your nose lungs also have covid. Wear your mask over both your nose and your mouth.
Your chin is not a mask rest, and your mask is not a chin diaper. Wear your mask over both your nose and your mouth.
Taking your mask off around friends or family because you think you are fine is tantamount to attempted murder. Wear. Your. ****ing. Mask.
I passed out earlier this morning. I am in the hospital and they are thinking of admitting me because I show early stages of covid related pneumonia. They have checked my heart and so far everything seems to look good there. We're not sure why I blacked out the way I did but it was preceded by severe vertigo, nausea, and sweating.
October 8th:
Just letting you all know that covid is a GREAT way to lose weight rapidly. Down 21 pounds in the last 8 days. Side effects sort of suck so ymmv...
October 8th:
Chris' Covid Chronicles
After a very scary day yesterday, I am doing better today with regards to vertigo, the blackouts, and my appetite.
For at least the last five days I have had no appetite, and whenever I tried to eat something I would get nauseous. Combine that with a regular cycling of my body temperature between approximately 97 degrees and just shy of 103, my inability to actually get any decent rest, and we find ourselves with a Chris that experienced the first syncopal episode of his adult life.
What is a syncopal episode, you might ask? According to everyone's favorite doctor, Doctor Google, a syncopal episode is when you faint or pass out. Blood flow to the brain is interrupted causing a loss of consciousness. You fall over, and blood flow returns to the brain. You wake up, usually only moments after the faint, and may have temporary confusion. Common causes of syncope can be low blood pressure, irregular heartbeat, abrupt changes in posture, dehydration, exhaustion, and several other factors not listed here.
One of the things I have been dealing with as part of Covid that I have refrained from talking about is diarrhea. Suffice it to say we all know what that is and why I don't need to go into any further detail on it, other than that since this started that is ALL I have experienced. Maintaining hydration is difficult when you can't taste even water, and it makes you uncomfortable to have anything in your belly.
Yesterday morning I snapped wide awake around 4AM, and then spent the next two hours trying to get back to sleep. My body told me it was time to go take care of business, so I carefully got up and went to the restroom, dealing with some vertigo as I went. While I was in the bathroom on the toilet, I was overcome with an overpowering inability to keep my eyes open, immediately followed by a 0-60 sweat session. I went from no sweat to dripping in under 30 seconds, and then the vertigo and nausea hit me. I braced myself on the counter and wall and waited for it to pass, knowing I'd hit my head on the cast iron tub if I fell. I made it through that wave and then made it back to bed after finishing up. An hour later I had to go back again. This time when the wave hit me, I leaned back a bit and braced myself again. I'm glad I did because I woke up leaning over my left arm on the bathroom counter while still sitting on the toilet. After this, I had a firm feeling of pressure immediately behind my sternum that didn't go away, though my pulse felt fine. When I got back to bed, I told Cindy about the episode... I was hit again with extreme fatigue, and the room was spinning around me. Cindy spent close to two hours trying to get me to wake up in order to take me into the ER. I was lethargic, borderline non-responsive, and suffering from constant vertigo.
Several hours later after a chest x-ray to look for obvious blockages, several extremely painful IV pokes, enough blood drawn to make Dracula proud, and a CT scan, I was admitted for monitoring of my heart, clotting factors, and the "ground glass" appearance in my lungs caused by the damage that Covid can do in the lungs. On a CT scan, viral infections in the lungs will be transparent but cloudy. You can still see the structures of the lung, but it's as if you were seeing it through ground up glass powder. Both the x-ray and CT Scan show I have a pretty hefty amount of ground glass. My 02 levels are fine, and I am not having difficulty breathing, yet. I do struggle if I exert myself in any way, and have difficulty catching my breath, and I am finding that I am now coughing more than I did previously. Ground glass presence does not equal automatic Covid related pneumonia, but the risk is there.
My doctor said that I am at the point in the timeline where either my body has the resources to make it through on its own with a full or mostly full recovery, or it gives it everything it's got and it's just not enough and then we're talking more severe treatments, possibly intubation and ventilator.
I am now on Dexamethasone and we're discussing some experimental treatments such as convalescent plasma therapy, which is plasma donated by people who have gone through Covid and come out the other side with active antibodies. There is also discussion about the antiviral drug remdesivir. Covid can cause blood clots, so I am on a daily injection of blood thinners to help prevent anything like that.
It would suck to get most of the way through treatment and then have a clot-induced stroke, which seems to have been a pretty common thing before the clotting issues were discovered.
Status update for today: the pressure behind my sternum is gone, as is most of the "ALL THE TIME" vertigo I had yesterday. I still have my standing and moving vertigo. I'm weak, and I'm gasping for breath if I move too much. I noticed an odd smell for the last 8 hours or so, but assumed it was Covid messing with me. No. It's the soap they use here. I can smell it. My sense of smell is still very weak, but I ordered up a fresh fruit cup, a quartered orange, a small blueberry muffin and a hardboiled egg for a late lunch, thinking I'd try to get down what I could. The second the blueberry muffin touched my tongue, I could taste it, and I only realized I was inhaling everything when I found myself with an entire quarter of an orange in my mouth, like I was back in grade school trying to impress the girls at lunch. I could taste, and I nearly cried, it was such a powerful thing.
I am staying at St Francis in Shakopee for the next several days at minimum... You are not obligated to send flowers or cards, but know that my room is dull and lifeless, much like any room I enter. Even a post-it note with a "Buck up buddy boy" would add some pizzazz. If you decide you want to do something of that nature, feel free to message Cindy or myself for room number. Note: I also don't mind if you want to try to "Out Flower Power" each other, and would be delighted to see the staff become flabbergasted by not having enough room to put them all. 😉 I will ask the staff to place them in other patient rooms, sans any cards so that all may enjoy. Phone calls are difficult, with the whole coughing thing, but chat via the various methods I use is fine. Visitors are not allowed for obvious reasons, and I am in an isolated room.
The staff here are heroes in the truest sense. Hearing them gown up outside for several minutes, enter the room, then strip in the room before stepping back out so they don't carry this thing with them to another patient... It adds so much time and effort to their day. Yet they are all in extremely good cheer willing to share a laugh, and are gracious and prompt in their service. My nurse at 2AM came in to flush my mid-line, take care of vitals, and run some other things. She has such a good bedside manner I told her so, and it absolutely made her day/night. I am blessed to have the medical insurance to make this possible for me to get this level of care. There are many people out there who are not... I will normally avoid politics, but this is a place where politics are one of the reasons I am where I am in life. Your vote matters all the time. It matters exponentially more at this point in history. You can decide whether I receive long term care and capabilities in the event of long lasting effects because of my bought and paid for insurance through work or whether *everyone* gets to receive long term care and capabilities as a basic human right.
I will edit and update this post as I can update.
[This message has been edited by Synthesis (edited 10-08-2020).]