I have a brand new ..not reman but new GM PERFORMANCE LS 364-450HP crate engine.
https://www.karlkustoms.com...q9-ls-series-engine/
I want to trade it for a new or reman or almost new ls4 low engine that's dressed and tinned with a 4t65ehd transmission for my fiero swap.
I purchased this engine for a 1951 plymouth project I have. I have decided to do my Fiero up first. Its dressed and ready to go with new edelbrock performer intake and super nice ceramic coated hooker camaro style manifold headers they are not quite headers but way better than plain old manifolds. I used Metal gm manifold gaskets. The truck pan has been removed and engine has 98-02 camaro pan and pickup with dipstick and tube for best clearance for your project. has the LS3 style balancer but I also have truck balancer if needed. Not pictured but also included and installed after pic taken is msd 6014 box for timing controls,1 in carb spacer stud kit, starter. flexplate and camaro ss 6.2 water pump
It also has new plugs like new low mileage coils and plug wires and new crank and cam sensors and polished ict valley cover and ict oil cooler block off and ict steam line crossover tube.
The engine comes from gm with the ls6 cam and ls3 good flowing heads and flat top pistons.. when gm says 450hp I truly think it's underrated because I have this exact same set up in a street rod and man its quick and super dependable.
If someone has what I need and they know anything about ls engines this is a smoking deal for someone only reason i'm considering it at all is that It would save me a lot of time.
So if you need a great LS engine for your rwd project here's your chance to trade with me for my needed fiero swap motor and trans !
Or id sell outright for 5000.00
-------
I also have kwik performance highmount accessory bracket street rod kit with ac compressor and power steering pump and 1 wire 200 amp alternator ..and a newly rebuilt 4l65e with all the goodies ..**for additional price.
Lol so find my LS4 setup..and lets do some swapping 304 439-1683 DL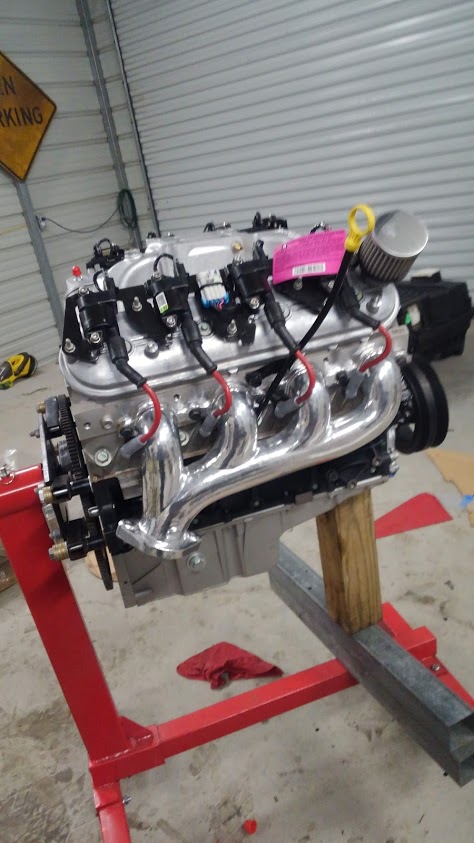 [This message has been edited by streetrod1 (edited 01-09-2021).]