(Updated 3/31/12)
Fellow Fiero Friends,
The HHP Adjustable Swaybars for the 1988 Suspension are now AVAILABLE!
If you are interested in ordering, please email me at RRUNNER@EGYPTIAN.NET It helps to include FIERO in the subject.
You also can send me a PM. I'll get that too.

I accept
Personal Checks
and
PayPal
. We can discuss other methods of payment if these do not work for you.
I have had a good response to my introduction of the 84 to 87 front and rear adjustable sway bars. However I was asked my many of you to develop a front and rear adjustable bar for the '88 suspension. I have spent the past several months designing, fabricating and testing prototypes. I am pleased to announce the availability of the adjustable front and rear HHP Sway bar kits for the 1988 suspension.
A little history for those who missed the previous HHP post:
As some of you may know, I made and sold a rear sway bar for the 1984 to 1987 Fiero from 2002 to 2006. I was autocrossing the car at the time and recognized the need for an improved fore / aft balance. To do this I developed a bar I saw used in other racecars. However, I did this for street use. The 1-1/4" hollow bar was used in the rear and mounted behind the cradle instead of below it. It saved precious ground clearance. I started a company called HHP (Hosler High Performance). Although I didn't advertise much, customers were very pleased with the product and I still have people calling me asking if I still make them. The problem was that the bar took a lot of time and effort to make.
I figured out how to solve the problem. Build a better bar.
And so my quest started. I am very excited about the new product I have developed, measured, and tested. Through 10 years of combined Fiero and racing experience I am proud to offer the following new products:
1988 SUSPENSION HHP FRONT ADJUSTABLE SWAY BAR KIT
and
1988 SUSPENSION HHP REAR ADJUSTABLE SWAY BAR KIT
I am very excited about this new product because it offers many advantages over other anti-sway bars. Below is a picture of each kit and a description of the benefits:
HHP 1988 Front Sway Bar Kit: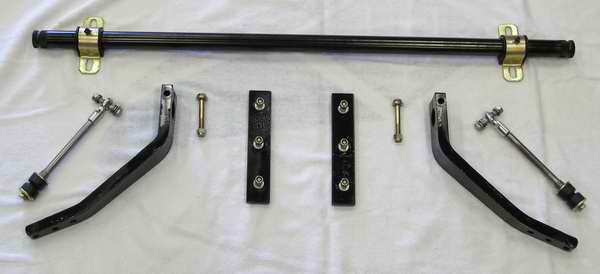 HHP 1988 Rear Sway Bar Kit:

These bars are intended for cars with stock A-arm geometry and mounting positions on Fieros with 1988 suspension geometry.
Why are these kits so great?
You get the same great features as with the current ?84 to ?87 suspension kits.
- The kits use three-piece sway bars. That means the bar can be changed while using all of the existing hardware.
- Each bar arm is adjustable to allow for fine-tuning of the fore/aft balance (4 wheel drift) of the car.
- Because of the great adjustment range, kits can offer a balanced setup both Touring (soft settings) or Competition (stiff settings)
- All steel sway bar arms and brackets are coated with three layers of POR 15.
- I use spring steel for the sway bars. The good stuff.
- Rod end bearings are Greaseable. They will last a very, very long time.
- End links use poly.
- All bolts are grade 8. Salt spray coatings are used for maximum rust resistance.
- The front bar mounts in the stock location. No need for modifications.
- These kits can compensate for all types of mods. Weight distribution changes, stiffer springs, stiffer shocks, and driver preference can ALL be balanced with adjustment.
- As always, a detailed instruction manual showing full installation and settings is included. This document is available for FREE by email per request.
This is all great, but what's the big deal? I mean, my fiero handles great now, right?
As far as I know (and I have been wrong before) bars with this type of adjustability AND higher stiffness have not been offered for our Fieros previously. Compared to an Addco set of front and rear sway bars, there is a very noticeable improvement. The front sway bar on a stock Fiero has a spring rate of about 190 lb per 5 deg. of twist and the rear about 85 lbs. ( I measured this) For good balance with this suspension, it turns out that the bars need to be nearly equal in stiffness. Which means (something we have known for many years) there is not enough bar in the rear for good four wheel drifting. Not to worry. It is not a design flaw. GM did this to help keep the car aimed forward when an "inexperienced" driver gets into trouble (heads in to a turn too fast). The car will experience the crash head on. Which is what the designers want. These bars can offer (using the competition bars) a stiffness of up to 340 lbs. Nearly double the overall factory settings AND they are adjustable for tuning so that they deliver a balanced car. This is a much better situation for an experienced driver since it approximately produces a balanced car.
Let's take this a step further.
What makes a sway bar work? Basically the stiffness (and therefore sway control) can be changed in two major ways:
1. Change the effective arm length
2. Change the stiffness of the bar through wall thickness or diameter.
These bar kits allow for both. The effective arm length can be changed on the rear (see picture below) by positioning the end link bolt in one of 4 holes. This creates 4 positions. For the rear bar, a hole change creates substantial change in sway bar rate. For the front bar, only 3 holes are used. This makes for some great fine-tuning.
If you decide that the whole car (ride quality) needs to get stiffer or softer, that can be done by changing the sway bar itself. You can change the bar so that you are using a soft "Touring" bar for in town driving and then put in a "Competition" bar for a weekend autocross or track day!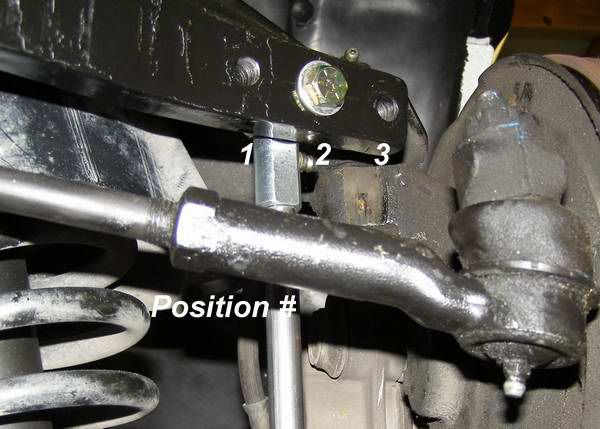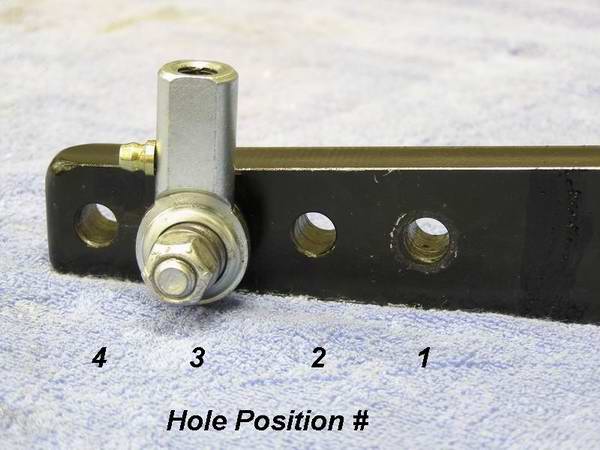 How do I know what to get? How do I balance it once I get it?
Good question. How can something like this work for all types of cars and drivers, engines, suspension upgrades, etc? Below is a chart that I hope helps explain more than it confuses. There are lots of lines, so stay with me.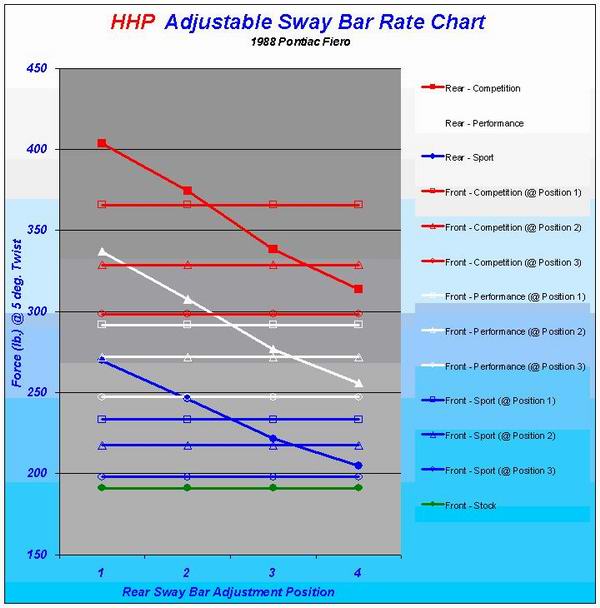 - There are 2 kits available, a front kit and a rear kit.
- For each kit you have your choice of 1 of 3 types of bar: Sport (blue line), Performance (white line), and Competition (red line).
- The REAR sway bars are shown as diagonal lines from top left to bottom right. The labeled axis on the bottom of the chart is the arm adjustment position. The labeled axis on the left is the force the bar produces at 5 degrees of twist. As you can see there is a wide range of force settings available. Each bar stiffness is a different color as described above. I can help you choose.
- The FRONT sway bars are shown as horizontal lines. Each group of three lines (by color) is a different stiffness of bar. The three lines represent the three different hole settings.
WHERE THE FRONT AND REAR BAR LINES CROSS IS THE APPROXIMATE FORE/AFT BALANCE POINT.
This is what you want as a starting point for your adjustments. Basically a front sport bar should be matched with a rear sport bar, but as you can see that may not be necessary.
Let's do an example.
Let's say you want to balance the car, and have decided to go with both the Sport (blue lines) kit for the front and rear. The proper initial setting is position #3 on the rear bar and #2 on the front bar.
The cool part is you can change this. Now let's say you decide you like the car to be set up a little more loose (understeer for you technical term guys). No problem. Change the rear bar arm hole position to # 2 or #1.
But wait, now you want to compete in autocross on the weekend. If you purchase a Competition BAR for the front and rear (the 2 bars only not the whole kit), the sway rate in both the front and the rear is now FAR higher than before. We are taking 340 lb ish. The ONLY change that is necessary is to purchase the BARs for the front and rear. You already have the other hardware (arms, mounts, end links, etc). Oh yea, and you can put the softer bars back on for a soft ride after race day.
So what does each of the rates feel like? For real.Sport (blue lines):
This is a daily driver. You like to take turns and appreciate a well-balanced car that always feels good, but ride quality is important because of those darn potholes in the city. The rear version of this bar can be used with the stock front, Addco front or HHP Front Touring bars. A good choice for show cars with a little spirited driving when no one is looking.
Performance (white lines):
The car is still a daily driver, but hey I like to turn! Ride quality is nice, but I'll give up some to play a little. Interstate cloverleaves and on ramps are my friends and I take them for fun even if it's not my exit. Besides, the Fiero is made for turning. If it were a drag car, it would have come with a V8 and been called a Firebird. A car with this setup can (don't try this on the road) be thrown from side to side across two lanes with NO back end over shoot. Can be used at the track or at an autocross.
Competition (red lines):
Just what it says. This is a track day car or autocross car. The ride quality is not as good as the Sport version however, a bar like this is not as stiff as a high shock rate or low profile tires. At an autocross that guy with the E-mod Vette is thinking, "why the heck isn't that car leaning?!?!" when you post a killer time. Your car will feel flat in the curves, even when turning the wheel as hard as possible at 40 mph.
How much are they?
The prices are listed below:
Front HHP Sway Bar Kit: $570 US S&H is included for orders shipped to the lower 48 states. (6 to 8 weeks for delivery)
Rear HHP Sway Bar Kit: $540 US S&H is included for orders shipped to the lower 48 states. (6 to 8 weeks for delivery)
Pricing has been updated due to material increases and fees from other sources.
If you would like to place an order, Please send me a PM or an email (rrunner@egyptian.net). I want to make sure you get the correct bar for your application.
Shipping and handling charges cover shipment to anywhere within the 48 states.
Disclaimer: HHP does not take responsibility for the customer's actions. Also, HHP does not encourage performance driving on the streets and will not be held responsible for damage, property damage, car damage, personal injury, or other person's injury during installation or use of this product. There is no official warranty on this equipment either stated or implied, HOWEVER, I will always work with the customer to make sure they are satisfied. Please use this equipment at your own risk. Thank you for reading the legal stuff.
Please let me know what you think. I am always interested in your opinion.
Thank you for your interest!
Paul Hosler
Hosler High Performance
rrunner@egyptian.net
------------------
Paul

HHP is now selling Adjustable Sway bars:
http://www.fiero.nl/forum/Forum4/HTML/036556.html
For a full history of my IMSA Build:
http://www.cardomain.com/ride/789315
[This message has been edited by R Runner (edited 03-31-2012).]