Hey all, hate to admit it, but my '87 GT has been giving me grief since winter last year.
After spending a few hours working beside it in my enclosed garage, I felt very unwell. Turns out it had been leaking fuel vapour, particularly in the area ahead of the rear-right wheel.
I started searched for liquid fuel leaks, and found one at the block-to-rail seal. Replaced the seal thinking that would've been it, but wasn't so lucky!
Checked my braided fuel lines, injector seals, CSI-delete bolt, pressure regulator, hard and rubber lines leading to the expansion tank and charcoal canister.
Removed the wheel well liners and attempted to detect vapour in those areas, couldn't notice it there either.
I ended up taking it to two separate mechanics. First shop dropped the tank, and weren't able to locate any leaks. I thought they would find something around the fuel pump gasket, as I had replaced the FP the year before. Instead I was told I did everything right, and it was all sealed correctly. Which wasn't what I wanted to hear!
It was difficult convincing them the vapour leak even existed, because it's a lot more effective at dissipating in a large workshop environment.
Second shop also dropped the tank, and found the rubber filler hoses had grooves worn into them. They had custom replacements made up, and were confident the problem was solved. I would've thought so too, but again, it continues to vent fumes from somewhere else.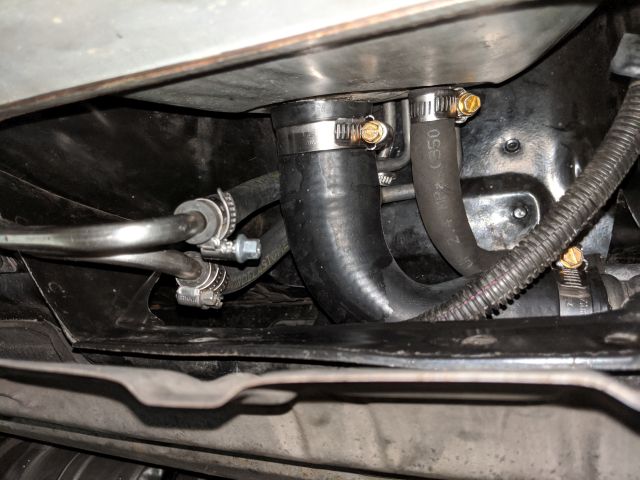 Some days it's barely noticeable, but on others it's quite strong. I can usually pick up on it as I approach the driver's door (my Fiero is right-hand-drive converted).
Seems like the leak could also be affected by ambient temperature.
Yesterday I got stuck into narrowing it down. Following my nose, while using a cardboard insert from a roll of paper towels.
Here's a summary of what I've found:
- Vapour is at its strongest in the cavity at the rear of the fuel tank
- Vapour vents up through the engine bay and beside the right-rear quarter panel
- No noticeable vapour in wheel wells, fuel cap area, or where expansion tank and filler tube are housed
- No liquid fuel leaks
- Replacement fuel filler vent hose has kinked
Anyway, that's about all I can say about this. If anyone has had a similar experience or can recommend any tips on how to solve it, I'd really appreciate it!
------------------
James
RHD '87 Fiero GT
[This message has been edited by James_GT (edited 01-19-2020).]