I have converted my l67 swapped 86 gt in the signature to OBDII from OBD1 using a harness from fieroflyer. After the swap I was driving the car and notice that my battery gauge was low and the car began to run like the battery was low. I got the car home where it died.
I tried to charge the battery and it would not charge overnight so I swapped it out with brand new one under warranty.
I noticed as soon as i connected the new battery that the alternator was humming faintly key on or key off it did not matter it made a humming sound putting a draw on the battery.
I started the car the gauge read 11v after a few minutes of it idling the voltage began to drop. So i pulled the alternator and had it bench tested which it failed (low dc volts and low stator volts) Replaced alternator with a cheap advanced auto parts reman unit no humming anymore!
Car ran fine at a solid 14 volts no issues for about 10 minutes. Shut car off thinking job well done.
Next day car started up just fine drove it a few miles to the gas station on the way I noticed the volt gauge was low again around 11-12 volts and dropping quickly.
parked the car shut it off and now the alternator is humming with the key off again drawing voltage again!!!
Took the new alternator off and had it bench tested and they are saying its fine.
I included a picture of my connector. Red wire is switched 12v, green does nothing, and orange wire is constant 12v. Is this correct?
By the way I spliced the red wire into switched 12v as it wasn't getting power at all before
Thanks in advance!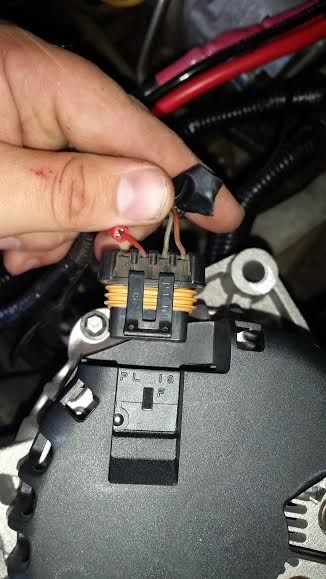 ------------------
Black 1986 Fiero GT, L67, 5 Speed, Firebird dash and door panels.
2006 GMC Sierra 2500HD LBZ Duramax
2006 Infinity G35 4 door (Wife's car)
[This message has been edited by CoFieroGt (edited 11-02-2014).]