Ok, my '87GT, I've spent half a day researching (including various forums here and the Ogre's Cave) and trying stuff. I bought a box of 25 twenty amp fuses and have used over a dozen of them. I've taken C500 lose and still blow the fuse every time I turn the parking lights on. I can turn the headlights on, and they come on quite nicely, but they won't go back DOWN again because I've blown the tail light fuse. Again. If I put a fuse back in (with the parking lights off) the headlights go back down. Until I turn them back on, of course. I've disconnected about every light in the car, along with the cig lighter and dimmer switch. I'm running out of ideas. I have NOT actually disconnected C100, as for one thing I can't seem to find it for sure. If it's on the firewall between the fan motor and the brake booster, I guess I know where it is. It looks a lot like C500. Does it remove the same way?
Someone posted a very nice list of everything that C500 does, does anyone have a similar list of all the things that C100 does?
And .. geez. I haven't posted here in a couple years - you guys are busier than ever!
Sadly, this is probably my swan song. This Fiero with the lighting issue is going to my nephew, and my other 86GT is up for sale. If I still have the signature file here, the yellow one is for sale. If anyone is interested. And yes, that was a shameless plug.
Thanks!
------------------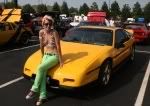 '86 GT - Now in Yellow!
'85 Silver SE V6 - automatic for the kid!
Two is enough for anyone. Isn't it? I mean .. really.. isn't it?
[This message has been edited by MaxDaemon (edited 10-07-2014).]