I mentioned this in the Mazda thread but I'm at it again. This tome the Doctor I do the majority of my work for spun a bearing in his car. After letting me use his garage to swap the engine in my Mazda, he now has a better grasp of how much I can gd when it comes to working on cars. Funny thing is once I changed the engine in our Mazda his wife and I were chatting about if they ever needed something like that done again it is something I can do. So about a week and a half ago he texts me asking if I think I'd be able to swap the engine in his Malibu because he spun a bearing. I told him I could so he asked me to look into a engine and get him an estimate on how much I think it will cost to get everything needed for it. He had called around for an engine and the lowest he found was $2300. I found a 22k engine for just under $800 with shipping. I told him that was no big deal though because I could get the other engine out while it's replacement is on it's way here. So in total, between my time the engine and the parts needed it all added up to less than the $2300 he had been able to find for just the engine. He told me to order up the engine and start on it soon as I could.
I pulled the engine out.
Stuck it up on the stand and stripped off what I'd need.
Replacement showed up today. I started stripping off the wiring harness and other things on the engine I wouldn't need.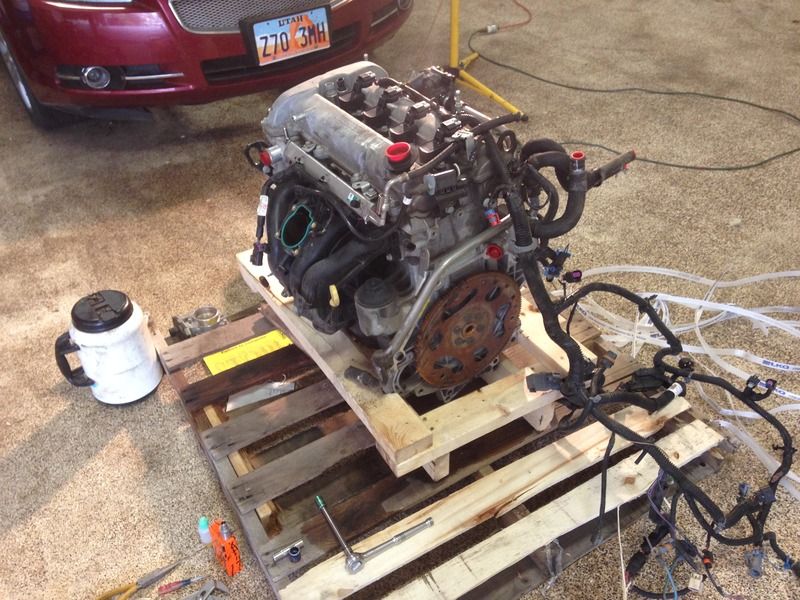 Hit a minor snag. Either the engine is slightly newer or it's the California version because his didn't have this.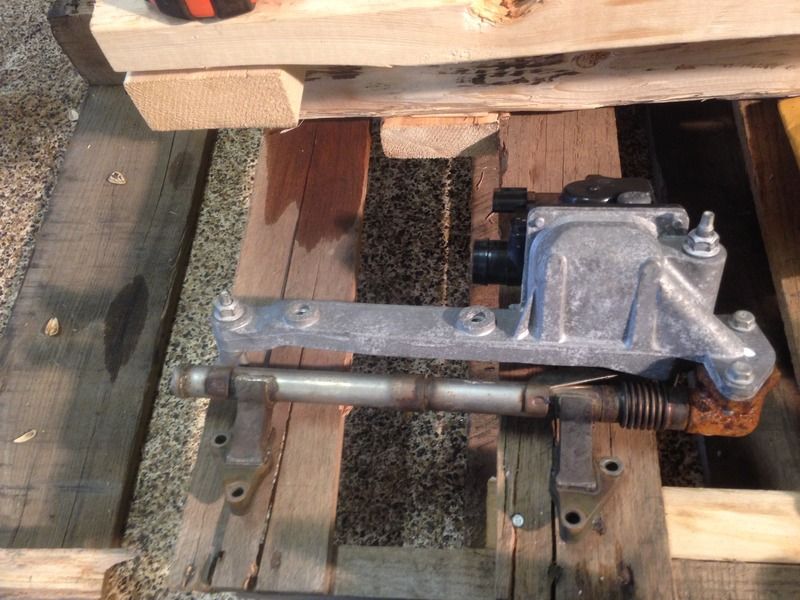 His head.
Head on replacement engine.
His engine doesn't have the EGR valve or ports.
That's where I am at right now. Tomorrow his old engine comes off the stand and the replacement goes up. Then I will start reattaching what I can before dropping the engine in and also making 2 EGR delete plates since his engine doesn't have the EGR.
I'm hoping to have the engine bolted back into the car tomorrow and to get everything else finished up on Friday. If I'm not done by Friday evening, I'll try to get back up there on Sunday to finish so he can have his car back on Monday. Right now he's driving their Yukon but he hates driving it.
As I'm doing the engine change on his car I'm also back and forth on the lot across from his home where the foundation crew is getting the footings and foundation walls poured so I can start back filling for the slabs. His car, his house, his daughters house across the road... By "majority of my work for" I mean 90% of the jobs I do are for him or through him. And the house across the street, it's not a small one.
Had a minor issue yesterday when 1 of the forms blew out at the bottom of a 16' high wall.
I'll update with pics of the EGR delete and engine back in when I get there. I'll also pull the pan off the old engine at some point and see if I can find which bearing spun. Maybe I'll get lucky and the journal on the crank will still be in tolerance and round. If so, I might re-bearing it and? It's a 2.4 L Ecotec so I suppose at worst if I ever get a Fiero again I'll have a engine I could swap in.
[This message has been edited by Khw (edited 10-28-2015).]