I have owned one for years, have been in the Lightning community and I will give you the basic expertise!
To start out, they are quite reliable, and more so than many of the cars I have owned throughout my lifetime. My '99 has 165K miles on the clock and still runs like new. It was a daily driver for a long time, before it became a garage queen. You will average around 14-17mpg. Parts are fairly cheap, since a lot of things are shared with the other Ford lineup.
The weakest link on the trucks were the factory connecting rods, as they were forged powdered metal, while everything else was forged metal. With that said, the rods are great at stock power levels to around 450rwhp. The reason these rods break is because people will slap on larger crank pulleys for the supercharger and not tune them properly. If the engine leans out way to far on a modded truck, pop goes the rods. Also, racing it with the overdrive 4th gear in operation can break them too, as the 2-4 or the 4-2 shifts can cause the rods to stress...but this can hold true with a lot of cars. Just turn OD off when you want to gun it.
The early years, 99-00, had 360hp and 440tq, while the 01-04 had 380hp and 450tq, modified intake manifolds, a larger 90mm intake and lower final gearing. The early years also had a factory recall on the intercoolers, but most of these have been swapped out. The 03.5-04 had 8 thread cylinder heads (the 99-02 models had 4 thread heads, and if the spark plugs weren't properly torqued, the could pop out under load). So, the 03.5-04 models are the most sought after, but not necessary to own. The early models can easily be modded to create easy power and just properly install the spark plugs.
Besides all of that, the trucks are GREAT to own. It's a pure rush to drive a modded full sized truck that can do 10's to 12's in the 1/4 mile. You can get 12's with minimal mods and a good tune. The amount of torque from the line is ridiculous and will put a smile on your face every time

They are fairly easy to work on if you can turn a wrench. The supercharger can get in the way of things, but even that can be taken off in 30 minutes.
They look 1000 times better lowered a couple of inches and there are multiple ways of getting that accomplished.
You will get some nice comments from people who know what the trucks actually are. You will also surprise the heck out of corvette and porsche owners, which is always a bonus. Nothing like beating them with a "farm truck".
Contrary to what was said above, you can use them like a truck. They will tow 5,000 lbs and they have a payload of 800 pounds. I have hauled over 700 pounds without issues. Also, the alternator is much easier than the fiero alternator to change! That only takes about 20 minutes on these trucks.
That truck you linked to seems like a great buy, if it all checks out. That is a nice price for the mileage. If you want to spend a few grand more, you can get a fully built truck with well over 500rwhp. I would go that route, since building a built truck can get pricey on your own. Whatever you end up with, get it tuned with someone who knows these truck in your area, so you can romp on it with more peace of mind. If you live in a cold weather are, get a winter tune, as well as a summer tune!
Long story short, my Lightning has been the best vehicle I have owned, due to its uniqueness and capabilities. Plus, the sound of the supercharger is quite addicting

Any questions, just ask me!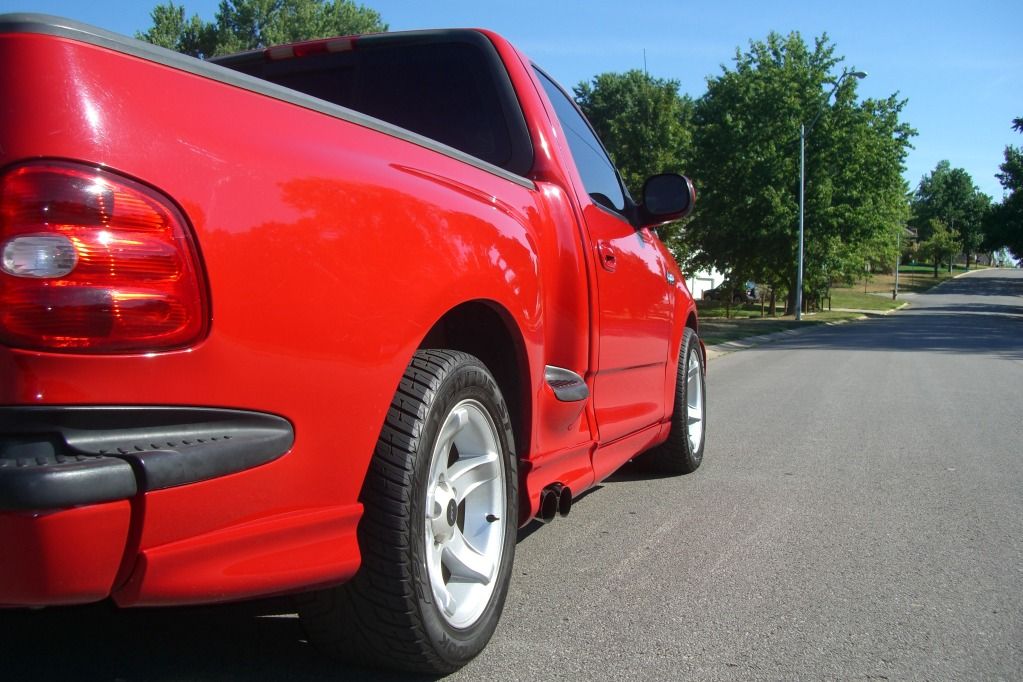 [This message has been edited by MacGyversMullet (edited 05-21-2014).]