quote

Originally posted by 2.5:

Found 35th pics

Another black Fiero (not ours)

PIC


That is my car. Here is a better pic.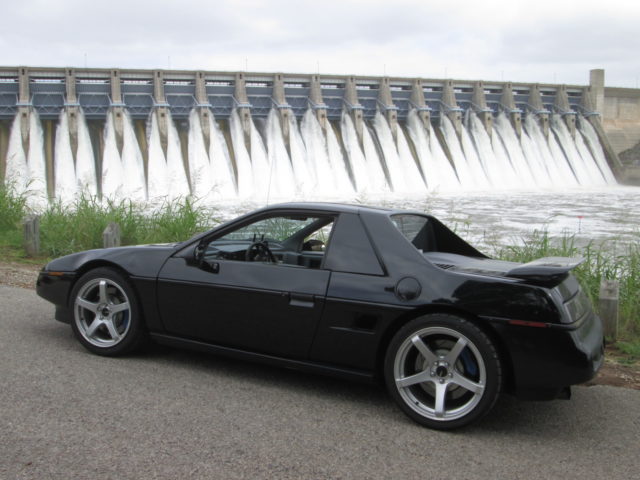 I have had the GT based vents on the Notchie since 2013 and really like the sleeker look. Unlike the fastback cars, the notchies don't have the full lip flange all the way around the opening (no lip at the top or bottom), so they can flutter a bit at speed (80 mph), and the venting concern is a non-issue due to the untaped gaps as well as the rear opening into the fuel fill area under the upper frame rail. They are a little flat in the center of the opening and would be better with the proper curve in the center like the GT windows, but overall they still are much better looking (IMO) than the stock setup with the bulky frame.
There are two styles, one with the lower notch to clear the top of the door and one that doesn't have the notch. My first set had a notch, but my 2nd set (after I had one disappear while the car was parked) didn't, but I went ahead an added it.
Here is what I posted about the install in my build thread:
quote

Originally posted by fieroguru:
My sail windows came in from Kahines and they look good! I have been a fastback guy for years and prefer the clean/smooth transition between the window to the sail panels vs. having the bulky notchie transition.

Panels:



The ugly section of the car that needs covering:


3M molding tape:



One place of interference. The top of the 1/4 panel sticks up past the top of the tape surface. I used a hand held grinder to bevel the top of this panel (it is hidden behind the sail panel) and did add a 2nd layer of 3M tape to the bottom 2" of the window so the edge would be held with tape and the gap where it transitioned between 1 layer and 2 layers of 3M tape would happen mid window.


Installed: