Twenty years later, Nirvana is still managing to cause controversy.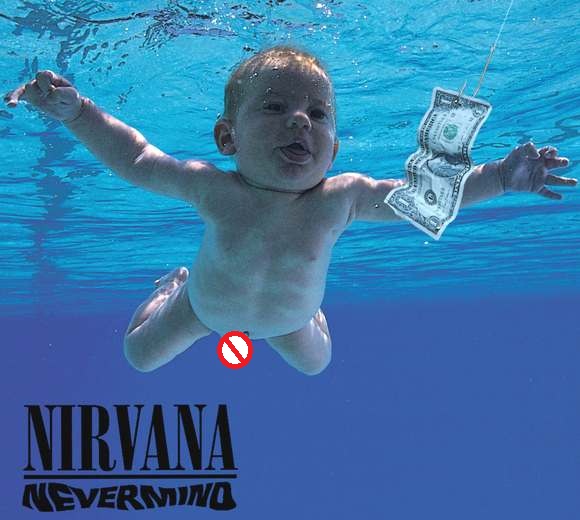 WARNING: I blocked out the "offending" part, to avoid any problems here with art~v~obscenity.
The band, whose Nevermind album made waves when it was released in 1991 because of its cover art which featured a naked baby boy floating in a pool, has run into censorship yet again, this time on its Facebook page.
After product shots of the album (which is celebrating its 20th anniversary this fall) were uploaded to Nirvana's Facebook page, the social networking company removed the photo citing a violation of its Terms of Use.
"Facebook does not allow photos that attack an individual or group, or that contain nudity, drug use, violence or other violations of the Terms of Use," the notice read.
For his part, the baby in the photograph, Spencer Elden — who is now also 20-years-old — has no problem with the revealing shot, "Quite a few people in the world have seen my penis. So that's kinda cool," he's said.
Nirvana will release a commemorative Super Deluxe Edition of "Nevermind" on September 27 which will include alternate mixes of the albums popular songs, live recordings and a live DVD of the band's 1991 Halloween show at the Paramount Theater in Seattle.
http://today.msnbc.msn.com/...today-entertainment/
[This message has been edited by Boondawg (edited 07-26-2011).]