And heres a picture of my new kitten.. He 4 weeks old.. His name is Smokey. He stays secluded in his own room for now, until my older cat can get used to the idea of another cat around.. I'll admit my older cat Mike (who is a little over a year old) didn't really like the idea of another cat. He was defiantly acting kinda pissed about it.. But he seems to be doing better with it.. Although i don't let the two of them see each other or interact yet, too soon for that. Gotta let my older cat get used to the kitten's sent being present in the house first. Vet told me to go slow and gave me a guide to follow so my older cat gets used to him over time, and should eventually accept him into the household.. Its a slow process though, so its gonna take some time.. But Smokey will be fine in his room for a while.
I found him in the parking lot at work, just sitting there alone crying.. Someone abandoned him there.. He was severely emaciated and badly dehydrated.. I REALLY didnt want another cat.. But there's no way i could leave the little fella there to die.. The vet told me he wouldn't have lasted another day, and that i saved his life. Which im glad i did, he is a real sweet little guy.. Other than that hes in perfect health. Im trying to find him a home, but so far no luck..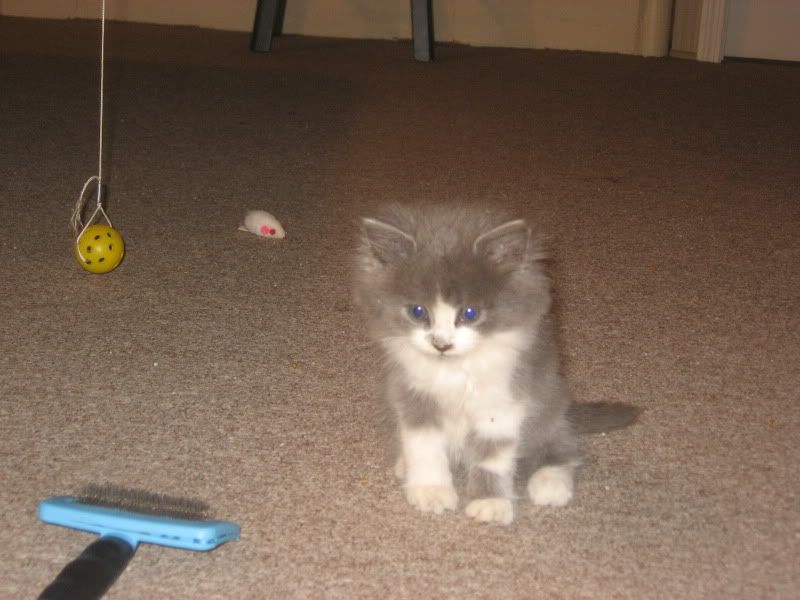 Hes defiantly a little cutie..
[This message has been edited by Jonesy (edited 06-10-2011).]