I hate my current job. And it's a job. Not a career I wish to pursue, simply because in order to advance--- they have to train you on "how-to fire someone", by actually firing them. Every time management jobs are offered I turn them down ASAP. I won't ditch any of my friends at work for a promo.
The company has been shifty in other areas, and I'd rather advance in a field relating to cars.
Preferably a tech/mechanical job, or even paint/body. Eventually go more advanced with it. My own body shop or racing team/shop.
Anyway, I'm unsure if anyone has read any of my other posts. But I've done a bit with cars already. All the knowledge I've learned is through forum searching or experience under the hood. Most jobs I try to pursue want a real experience in the field before they hire me, AND/OR ASE certifications. And body shops just won't hire shop hands in Texas I guess because cheap labor is easy to obtain in Texas.
--I have no experience in body work, and I can't even weld. They slightly taught us once in a body shop class that was shut down in highschool, but welding and minor dent popping is almost memories lost.
--I'm quite mechanically inclined though. I've done 2 custom motor swaps, and 1 factory motor swap. Wired cars, and done almost everything under the hood in repairs except for rods/pistons/crank and actual head work.
Replaced every gasket a car has at least once. Alt, distributor(and parts), tune ups, fuel pump, starters and everything in between.
But
no
A/C work aside from a R12 to 134? conversion on my 89 probe GT.
So, this turns me towards some form of schooling to get me somewhere. I guess, right?
Within a 30 minute drive of my home in Plano, I have ATI and UTI (to my knowledge, if others exist let me know!)
I went to visit ATI a few weeks ago, where I snapped a shot of a Fiero from the front window.
If this is your Fiero at this light on Kingsley and Shiloh, I gotta say "NOICE!"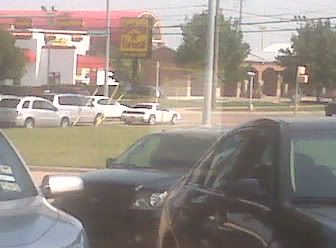 Anyway, I heard a lot of bad things about ATI the more I read into it. And someone was telling me the course is really directed towards people who know absolutely nothing about cars, and for 24,000$... It won't put you very far except with an ASE certification in your hands. ATI only offers a mechanics/technicians course.
The other option, just as equally far in distance, is UTI. I've only read bad reviews on it. But who writes a good review? Something has to be breathtaking for someone to go out of their way to write a good review. I have not stopped by the school yet.
As far as I know, UTI offers both mechanical and body work courses.
I'm ready to listen to any opinions you have, experience, advice, whatever.
Anything you say will be taken seriously. Even if you say something like "Tech schools are for retards, don't go".
It's a serious decision I'm considering to make. Either now/soon... Or after my wife get's out of school which is in a year.
Also, I've applied at CCC(Calipers I think it's called), Service King, and Maaco (I think it was Maaco.....).
Anyway, I've heard those 3 have in company training/promoting. What better deal than to work and learn.
But, no good so far. I've also applied multiple times to Service King and Calipers, and spoke with their workers too. Just no good yet.
So yeah, drop some info down if you got a sec. I'd love some advice.
Body or mechanics, I just love working with cars in general.
Thanks!