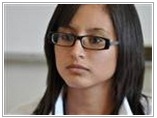 A 20-year-old college student who was hired as police chief of a Mexican border town has reportedly sought asylum in the United States.
Marisol Valles Garcia "received death threats from a criminal group that wanted to force her to work for them," the relative told AFP news service on Thursday, speaking on condition of anonymity. She "went to the United States along with two relatives and will seek asylum."
Valles Garcia, who has an infant son, became police chief in Praxedis G. Guerrero town — home to some 10,000 people — after two other job candidates dropped out following the killing of the mayor and his son. She was studying criminology in Ciudad Juarez, Mexico's most violent city.
However, town secretary Andres Morales said that Valles Garcia was expected back at work on Monday after taking some time off to deal with family matters.
"Right now, these are rumors," he told the El Paso Times.
Word of Valles Garcia's apparent departure comes after Erika Gandara, a female officer and the sole representative of the law in the border town of Guadalupe, was kidnapped in December . Her fate is unknown.
http://www.msnbc.msn.com/id...world_news-americas/
[This message has been edited by Boondawg (edited 03-04-2011).]