Iīve had these for many years, but think they might be more appreciated by somebody here, and if you want to bid on them, the highest bid wins..and you pay the amount of your winning bid to PFF!!
They are original enamel pin badges which were issued, I think, in 1976, but not sure. They are in plastic display cases, mounted on velvet pads.If you want them, put in a bid, and the auction ends next Friday at midnight GMT !! I will pay the shipping to the winner.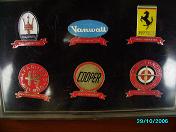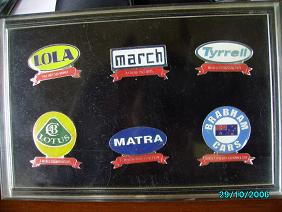 If you canīt read them, because the photos arenīt that good, here is the list of names on the badges:
Maserati
Vanwall
Ferrari
Alfa Romeo
Cooper
BRM
Lola
March
Tyrrell
Lotus
Matra
Brabham cars.
I think it would be nice to keep them both together, but if you want just one set, maybe I can split them.Especially if it raises moere money for PFF!!!
PS they are the same size, just the photos are different!! Sorry!!
Have fun!!!!
Nick
[This message has been edited by fierofetish (edited 10-29-2006).]