When you realize the cost of Japanese Kobe Beef, (which, by the way, is the finest beef in the world) that price comes out about right. Not a bad price, concidering people pay alot more for salty fish eggs!
I'd take a
bite
for $10.00, just to get an idea of the flavor.

KOBE BEEF
What is Kobe Beef?
Kobe beef is considered the most exclusive beef in the world.
Technically speaking, there's no such thing as Kobe beef, it is merely the shipping point for beef from elsewhere in Japan.
What is called "Kobe beef" comes from the ancient province of Tajima, now named Hyogo Prefecture, of which Kobe is the capital.
Real beef connoisseurs, however, still refer to it as Tajima beef. This beef comes from an ancient stock of cattle called "kuroge Wagyu" (black haired Japanese cattle).
Today they are raised on only 262 small farms, most of which pasture fewer than five cows, and the largest of which run only 10 to 15 animals.
Each animal is pampered like a spoiled child. Their diets are strictly controlled and during the final fattening process, cattle are fed hefty quantities of sake and beer mash.
Each animal gets a daily massage. The theory is that mellow, relaxed cows make good beef!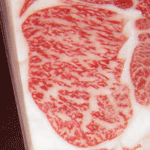 One New York Steak - 1" Thick Steak - Marble Score 12
Regular price $199.99
4th of July Sale $149.99
www.1800steaks.com
[This message has been edited by Boondawg (edited 06-21-2006).]