quote

Originally posted by stingant0:
Note the word "technically". Sound is the brain's interpetation of the vibrations.

"These examples are just the tip of the iceberg" Not good word choice for someone talking about psychology. Sounds like your talking about the conciousness.

The first point I wanted to make is that sound is a physical phenomena and exist indepdent of human perception. Stated simply, sound is changes in the air. In psychophysics, sound is a distal stimulus.
NOTE, I do like to mess with people about the tree falling and sound or no sound philosophical debate. It's a silly question, if a tree falls and you don't see it fall, did it fall? I'm just changing senses. You might say, it sounded like a tree fell, but I didn't see it. (hahaha!)
Really, I thought that was funny.


Another one is, if I don't perceive gravity, then gravity doesn't exist. Come on, gravity really get's you down. (Okay, no more jokes.)

The point is, what you perceive is not how the physical world actually exist. Each individuals percepts of the physical world are the result of their sensory and perceptual mechanisms. This is a fact.
Consider, we could use transcranial magnetic stimulation to inhibit the functioning of your auditory cortex. Temporarily, you will not perceive sounds even though they exist in the environment, but just because you can not perceive them does not make them any less real. The infrared light of your TV or CD player remote emits light you cannot see, but it is still there nonetheless.
For example, subjective contours are a perception, but do not physically exist. Below, the white ring, white disc and white triangle are NOT physically there - they are illusory.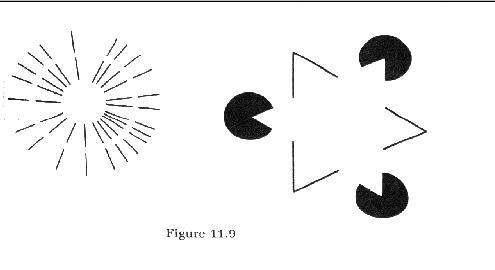 When I write perception, this does not imply anything about consciousness.
Your profile indicates you are a student, as an elective you might consider taking a class in Sensation and Percpetion. If not, go to the library and look at the E. Bruce Goldstein text, Sensation and Perception. Alternatively, most psychology departments have someone who is an expert in the area.
Who said I was talking about psychology?
Then again, maybe you did not catch the metaphor. Anomia, dyscalculia, and prosopagnosia, as far as neurological deficits are merely the tip of the iceberg metaphorically speaking as there are numerous others I could have cited.
Neurological deficits are issues psychologist should be aware but are more a concern of those working in the domain of neurology and neuroscience.
The point I wanted to make is, there is conclusive evidence that YOU ARE YOUR BRAIN. If I change your brain, then the quality of whatever makes you, YOU, has been altered.
Sorry, I will not argue consciousness as I will leave that to Daniel Dennett, Roger Penrose and other individuals bold enough to venture into that domain.
Before I stop, let's address your qualia question.
"You are on the right track, BUT, if the world was all red, then we wouldn't have the concept of red right?"
The sky is blue, but we still recognize the qualia of blue. BTW, qualia are properties considered apart from things having the property.
We have the concept of smell, but how many qualia do we associate with smell. I can say an Apple smells sweet; but sweet is more related to taste. The truth is, an apple smells like an apple - what's that? A lemon smells like a lemon. Fish smells like fish. Women smell, like women - good

Moosehead smells like hops - but what qualia do hops posses?
The difference between smell and vision are qualia. We can say an apple is RED or YELLOW, and a Fiero can be RED or YELLOW. The qualia of RED exist independent of things possessing that qualia.
And don't try to tell me something smells like sulphur because sulphur is not a qualia, because sulphur is something concrete. Saying something smells LIKE "wet underwear" is a METAPHOR. Of course, if you have anomia, then you will not understand.
I'm not saying that qualia do not exist for smell because persons in the beer and wine industry indentionally develop such qualia; they are not innate. Neurologically this is because smell is not as developed in humans as vision - THE dominant sense.
Back to your question... would we have the concept of red if everything were red? I'll speculate and say NO. WHY? Taking this as a literal everything, then if everything were red then there would be no basis for contrast. How would you distiguish foreground and background. Then again I can speculate and say YES as well. WHY? Linguistically Eskmo's have significantly more words describing snow than other languages such as English or Chinese.

You're going to love this... Perceptually they perceive things we do not. Why? Because of the environment they live in and as the result of LEARNING in that environment.
As an academic argument, it is quite involved.
------------------------
BTW, I love the opportunity to discuss my interests - including the Fiero! As a teacher I can only hope that you learn something from what I wrote. Plus, I'm writing for fun as well.
Cheers!
[This message has been edited by mindscape (edited 03-01-2002).]