Alright, I know how to post images from websites that give ya posting code or something. I have tried PiP but that doesn't work for me or I am not using it right.
I use onebigvillage.com photos but they only let me use 8 mb a day bandwith so when I post pictures, after a few people see them they become invisible.
Also how do you post pictures using fiero.nl/uploads. For the past month it says its out of service.
So anyways is there any other photo hosting that works better that I can post pictures on or a better way of doing it. Or use the forums website to put pics on like I see many people do, but I don't know how. Thanks
I am confused on this.....

------------------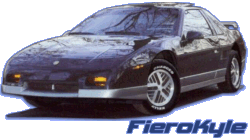 My Fast 'n Black Car
Kyle - 85' GT