Hey guys, hope everyone hasn't forgot about me!!!
I'm still in Basic Training and will be until Dec 20 which is when I get home for my Christmas Leave, and then I return from graduation on Jan 25th. But we have a pass for Thanksgiving today, and I thought I'd say hi, tell everyone I'm still alive (barely, ha ha) and let you all know that although there is life outside PFF, its much better in here.
Take care all, have a great holiday, and I'll be talking to most of you when I get home for my 2 weeks in December. Bye!!
------------------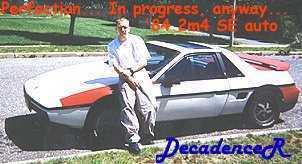 AIM - DecadenceR
"For though I cannot fly, I'm not content to crawl..."