Hi everyone. Just wanted to share the good news. I finally finished building my Lamborghini Diablo. Just so you are aware, these kits take patience and skill so you better be prepared to spend all your free time. It took me a WHOPPIN' 25 minutes from start to finish but it could take you longer if you're not familiar with the snap-on hardware. I recommend avoiding the glue-on pieces as it takes MUCH more patience and not to mention time. After all, who needs to spend over an hour of their lifetime on one kitcar? Sheesh! Here's some pics of my new baby.
This is a shot of the body shell with the pre-hinged doors, trunk, and engine lid. That was a bonus because it could take up to an extra 9-10 minutes to do that yourself. Phew, I'm glad I wasn't the guy who had to do all that work.


This is a pic of the chassis, interior, V12 engine and wing all installed. Keep in mind, although the transition from the first pic to this one seems quick and simple, it isn't. This is after a whole 18 minutes. I know, you're probably wondering "how does he do it?". It's simple...focus, focus, focus.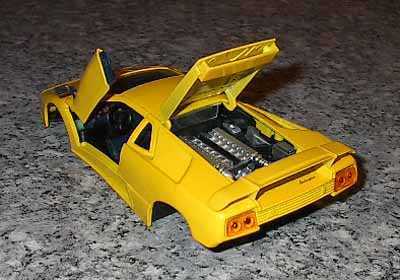 Ok, this was the final step to completing the kit. The wheels! These are massive! The front's are 2 x 1 cm and the rear's are...get this...2 x 1.5 cm!!!! A lot of rubber! (sorry for the blurred pic)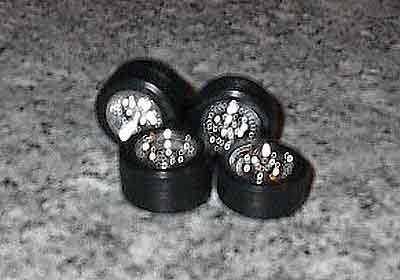 And finally after all the blood, sweat, and tears it's complete! One heck of a nice car if you ask me. Now that I'm familiar with it's components, I'd feel safe to say that the next time I build one it would probably take me under the 20 minute mark! Yes it's true! Practice, practice, practice! Thanks for your time.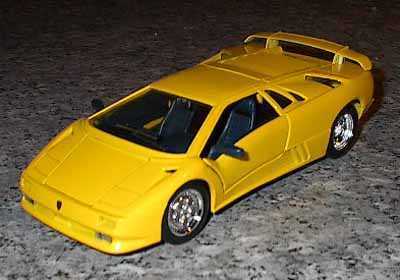 ------------------


[This message has been edited by FLASHY (edited 10-24-2001).]