Coy, I've got a 1940 Ford two-door Sedan de Luxe just like that one that I got when I was 15. It was rebuilt in the 60s by my mother's now ex-husband. He put an overhead valve Mercury V8 in place of the flathead, complete with wooden motor mounts! He had to cut the fender well on the passenger side because the alternator sticks out in front of the front wheel, and he had to cut the firewall because of the huge bellhousing that mates the Hurst Old 4-speed to the Merc block! Strange combo huh?!?
I'm like you and have way too many projects already but have always said that I will rebuild this car someday. Just having another car to pull from or a good source of parts would be helpful. If you're ever out that way and want to see what they want for the complete car. The fact that it is still sitting there probably means the price is too high.
One thing for sure that I could use is a trunk lid. Mine got backed into and mashed in...
I appreciate it..
------------------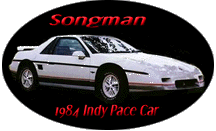 Tennessee Fiero Owners