Well, here it is: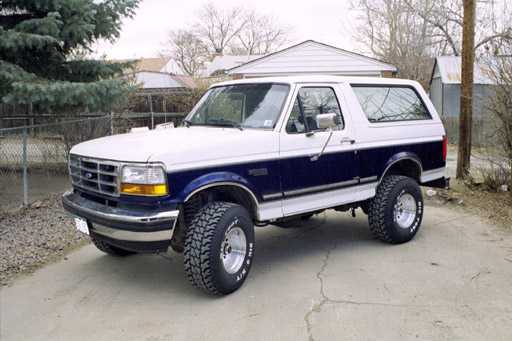 Above it what is looks like now.
Below is what it looked like when I just got it, about 3 weeks ago.

I added a 4" body lift, 33" Big Foot tires and got rid of that ugly step (Well, not intentionally, lost it the 1st time I took it off-roading) The reason I bought it is because I need a winter 4x4, and my old 85' Bronco threw a rod, ran for a couple more weeks and kicked over, so I needed a new one. So, I decided to get a nice new one, since it will probally be the last non-fiero I buy for a while. This also means it took a considerable chunk from my fund for the 3.4 conversion. Im still going to do it, but probally not this winter, maybe this summer/spring.
------------------



Sean's Fiero Page
Sean Heberly
Silver 86 GT 2.8 Auto (3.4 Conversion in Progress)
"It's always in the last place you look." Of course it is. Why would you keep looking after you've found it? Do people do this? Who and where are they?
[This message has been edited by Seanh (edited 01-31-2001).]
[This message has been edited by Seanh (edited 01-31-2001).]