I just did a search on "Spark Plugs" and found the infamous thread!!! I heard Cliff mention something about it a few weeks ago. I searched but must have found another thread with the same title and read through the posts and thought, "What's the big deal?" because nothing seemed wrong, funny, or very interesting just people saying they use AC, Bosch, Split Fire, etc.
Anyway, it just crossed my mind again so decided to search for it again. Well, I found "The Thread." I got to about the 10th post in and laughed my butt off all the way to the end.
Now I know what everyone was talking about.

I wish I had found out about this place a few months before, that thread was so hilarious! That was something else...
Anyway, just wanted to share that because I'm still laughing right now as I'm typing this.
------------------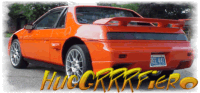 HugGRRRFiero@hotmail.com