Well you have not got a response so I'll offer this idea. (I have a 3800sc setting on a palet also BTY.)
What if I get a measurement from the center of the water pump pulley to the trunk wall angled down close to what your angle would be to the outside edge of the Alt.
Or do you have a car with a v6 you could measure.
Would give you a close idea of where your at. It does look like it's out there a long ways.
Ok, on a V6 it's about 13" from the center to the edge of the Alt. where I set them.
On my 85Gt looks like there might be about 17" from the WP to the trunk wall. However the wall angles to the rear so the lower you set the more room you have. There looks to be a brake line on the wall that might have to be moved a little. (at least on an 85)
Here is a pic, tried to take it at about the same angle as yours.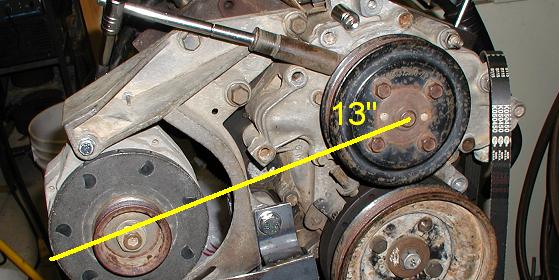 [This message has been edited by Dodgerunner (edited 05-17-2008).]