When attempting to start my car (for the first time after the motor swap) the starter made a loud sound the motor did not start and when I went under the car the starter was stuck in the "OUT" position, kind of jammed in the teeth of the flywheel. Again, this was the first time I have tried to start the car since the motor swap, and YES, Im still working on this swap after 5 years, im having a "kick in the pants moment" and I want this swap done.
96 DOHC motor
88 2.8l GT flywheel
96 DOHC starter.
I have shimmed it first with one shim - noise, no start, no crank after 3 seconds, loud TICK, TICK, TICK sound
I removed the shim - noise no start, no crank after 3 seconds, same sound.
I have not tried two shims yet.
Do I have the wrong combonation (gear teeth) for this to work. Will it stick because I have the wrong combo?
WIll an 96 starter work on a 96 DOHC motor with a 88 flywheel? or do I need to add the other shim? Or get an 88 starter?
Finally, I have been told that the starter on the newer 3400SFI motors is a small "high torque" type, true, will it work on an 88 flywheel?
Thanks in advance.
Rob
.
------------------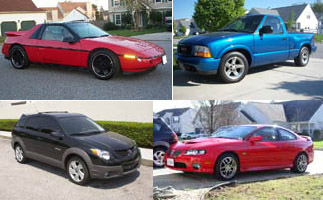 88 TTop coupe (96 3.4DOHC/5 speed in progress)
03 Vibe GT. 6spd
05 GTO, LS2, 6spd
01 Sonoma SLS, 5spd, ZQ8 sport suspension
[This message has been edited by qwikgta (edited 03-17-2008).]