May be a parasitic drain as suspected but could also be that the battery is not being fully charged.
This could be from something as simple as a loose belt or a poor battery connection. Also could be from a failing alternator or making many short trips that donít allow full recharge.
Another possibility is that the previous problem weakened the battery and it no longer has rated reserve capacity.
Or maybe something else?
edit: Here's a table showing the state of charge voltage for the various battery types. Check battery after it's "settled" for about an hour following a long run.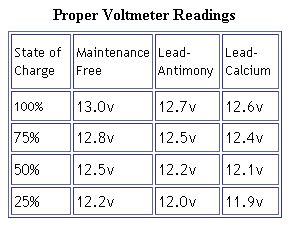 [This message has been edited by spark1 (edited 02-03-2008).]