Hi all,
I plan on removing my Upper Inlet Plenum at the weekend to try and find a Vaccum leak on one of the many pipes under there.
As american car parts are not sold in the UK i will not be able to get a gasket if i break the one that is on there, also i dont want to wait 2 weeks for parts to arrive from the states.
Therefore will i be able to use "Instant Gasket" such as "Hermatite Blue" ??, and just create a thin bead around the whole plenum surface prior to re-assembly.
------------------
Regards,
Paul Taylor, England.
85 GT Notchback, 2.8 V6, 4 speed manual. Custom made Tubular branch exhaust manifolds with true twin 3in exhaust system. No CAT, No EGR. No Crossover pipe. ADS Road Race SuperChip & 160 deg stat. Gen 4 eRam. Poly bushes all round. Lowered 2 inches. 16" alloys with 225/45 rubber. 0-60mph in 5.5 sec.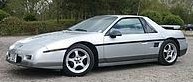 www.fieroforum.co.uk/Paul85gt.htm