I have an 86 V6 Auto.
The car seems to stall once it warms up. I just now started it up and let it idle in the driveway. The fan kicked on (Rodneys low temp switch) and 30 seconds later the car just stalled. It has done this every time I got it started in the past week.
The car also will crank but completely refuse to start at certain times. The only pattern I can find to this is based on time of day and outside air temperature. If I crank it over on a warmer afternoon (50* F) it starts up. If I try to start it at 8-10pm it just cranks.
Fuel pump should be good. It makes its usual hum before and after I crank. Fuel filter has been replaced. Cap and rotor have been replaced.
A friend an I volt-metered the 6 connector injector plug inbetween the plenium and thermostat housing late one evening. Bank one and two get power. While cranking, the cold start injector was not getting voltage. I assume it should?
Where should we go from here? When should the cold start injector be receiving power? If it is supposed to be receiving power, what would cause it not to? What would cause the car to stall once warmed up?
Thanks all.
------------------
Most comments are opinion of the author and are fair targets for corrections/critisim. :P
Andrew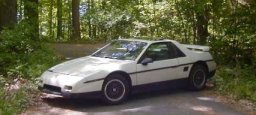 White86SEV6Auto *dead* *sniff*