I have an 86 GT that is coded for the performance sound system (however some of it I believe was removed) but never seeing one before I have questions concerning the setup!
I recently decoded the RPO's on my 86 GT and seen it came with performance sound but not sure what all has been ripped out of the car!
What comes with the performance system.......? (Overhead sub control, sub inclosure w/sub, Amp and top of the line delco head unit!) Did I miss anything???????
I know the stereo has been removed (it has the plain jane model). I also don't have the overhead control for the sub (standard fiero overhead light). The sub inclosure is present but I believe the grill is missing (I can reach my hand up inside the inclosure). Now for the question i'm really unsure of.......Where is the amp located (it has probably been removed as well but I don't know where to look for it)????
Thanks!
------------------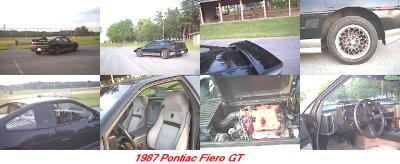 Keith F.