quote

Originally posted by fiero_silva:

I would be removing the main tank completly...
any suggestions on a fuel pump and anything else i would need?
Sounds like a good idea, especially if you can increase the fuel capacity. However, to relocate the fuel tank/cell to the front area you may want to consider having a custom made racing type fuel cell. My main concern would be the safety factor. A significant front end collision would rupture the fuel cell, so protection of the fuel cell would be a major factor. I would look for a bladder type fuel cell that would contain the fuel in the event of a collision. In addition, you would lose the spare tire and should then consider using run-flat tires.
------------------
Deezlfitr
"Life is just a bowl of cherries... ya just gotta watch out for the pits!"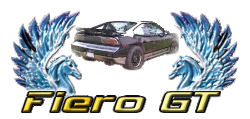 1986 GT/Auto (my first)