How to tune and modify Chevrolet Fuel Injection.
I stumbled upon this at Borders at the local mall.
I thought it was going to be another one of those "technical" books that briefly touches upon everything, but just gives you enough information to get you in trouble.
Not this time.
Just about everything in the book can be directly applied to our cars. It goes into great detail regarding how all the sensors work and what the normal sensor readings should be. It gives step-by-step troubleshooting procedures, as well as some really good "backyard mechanic" procedures. (If you've got an old dwell/tach meter, don't throw it away just yet.

)
It goes into diagnostic codes, troubleshooting, emissions and mods. It even touches upon OBDII.
It makes a terrific supplement to even the factory shop manual.
One of the best $20 I've ever spent.
It's also available at www.motorbooks.com or jump to the description here
------------------
Raydar
88 3.4 coupe.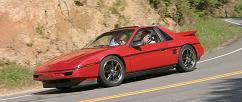 Coming soon...
88 Formula, presently under the knife.
[This message has been edited by Raydar (edited 01-25-2004).]