Sure does, i use it with no problems.
------------------
Regards,
Paul Taylor, England.
85 GT Notchback, 2.8 V6, 4 speed manual. Custom made Tubular branch exhaust manifolds with true twin 3in exhaust system. No CAT, No EGR. No Crossover pipe. ADS Road Race SuperChip & 160 deg stat. Poly bushes all round. Lowered 2 inches. 16" alloys with 225/45 rubber. 0-60mph in 5.5 sec.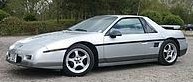 www.fieroforum.co.uk/Paul85gt.htm