Thanks for the heads-up. I don't own a Miata, but I'm sure there are several folks here who do. They're cool cars.
This will probably get moved to O/T when Cliff notices it, but it's still appreciated.
Seems to me that there's about eight-bazillion Miatas out there. Seems like these morons wouldn't want to piss off that large of a community. Ah well...
------------------
Raydar
88 3.4 coupe.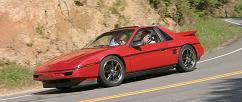 Coming soon...
88 Formula, presently under the knife.