After lurking through the boards and devouring all I can on engine swapping, I've decided that the ol' 2.8 will eventually become a boat anchor and something with a tad more motorvation will be pushing my 86 SE around.
I love the Ecotec. No if's ands or buts, that motor is just too damn sexy. The Old's Quad 4 is equally as sexy. Unfortunately, I'm hooked on Vs and on Sixes, and the sound that goes with them, so that limits my choices.
A high priority (probably second, after raw git-up-and-go) is better front-to-back weight distribution on the Fiero. Overpowered understeer is fun, but it gets old after a while, so I'm not willing to go with a Chevy V8 due to it's bloated weight (not to mention, how the hell do you change the forward bank's spark plugs????), so aluminum is very desirable.
I think the engine that I want to go with would be a variant of the Buick GN's 3800, in an aluminum block. I've seen a few places (not that I've looked too hard) that sells them, and I think this'd be the way to go. Stick one in my SE, put a hairdryer on it, and keep it around 300 hp.
My biggest worry concerns the existing Fiero transmission. Excuse my GM ignorance (circumstance kept me into mostly Fords and foreign cars), but will a Buick block bolt up to the 4 speed (and later 5 speed) transmission? I'm not 100% sure that the posts I've read about 3800s are referring to the same engine.
On a scale of 1 - 10, what level of difficulty is this kind of engine swap?
And lastly, would I use the existing Fiero ECM or another unit?
Thanks for any pointers putting me in the right direction!
SJF
------------------
Smokin Joe Fission
1986 Fiero SE 2.8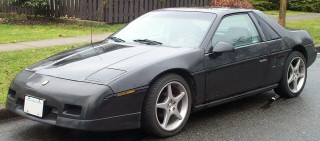 Perhaps I shouldn't have taken on a Fiero that the original owner said he liked to work on, especially after it spent some time 'submerged'. At least the car was free.