Interesting...
I'll bet the cam and lifter loading is incredible. To be fair, I didn't read all the info, though.
It *did* say you could use a stock intake manifold. For some reason, I'm picturing a TPI setup
imploding
into the top of the engine at around 5500 or so.

Yeah. I'm warped.
------------------
Raydar
88 3.4 coupe.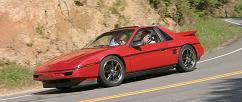 Coming soon...
88 Formula, presently under the knife.