Yeah, it's a nice kit, but notice the guy never officially said his internals would hold upto it.
He ran it on 6psi a couple of times, but he said on the street it was at 4. That isn't alot of boost.
Yeah, it's only $800. That's a little more than what a new T3/T4 turbo costs ($650), so at least the price for it is right.
And if you guys read the post I made on that link, you'll see I just ran into a legal issue, now that PA just announced a statewide emissions law. So if I switch motors, I will technically be modifying emissions equipment. GOD DAMN why did Tom Ridge have to leave?
Anyway, my reasons for going to the Ecotec are clear. More than 300HP on a bone stock motor...need I say more my friends? Plus it gives the Fiero a 50/50 weight balance, better gas mileage, better emissions, lighter weight (the block weighs 69lbs), and it's darn easy to get parts for. Easier than it is to get duke parts, and way cheaper too.
I bought my motor, ECM and wiring harness for $700 and the transmission for $300. I can't use the stock tranny, the bellhousing and starter motor position are both different. Plus the J-body tranny is a getrag, that is tough as nails!!!
Yes, I do need to make custom motor mounts, but as I'm not a very experienced welder, I can get help from several Navy Certified Welders from the base's repair shop to help/teach me.
I'm going to build it on a separate cradle, so as to minimize downtime on my car. Plus by doing so, I can sell the entire powerplant assembly off ebay, instead of having to sell the separate parts. Makes it alot simpler.
There is a J-body platform that can use the stock tranny, which is the 94-earlier Quad 4's, but they're heavier than the Ecotec, and have their downsides. The oiling system isn't as good at the Ecotec's, and pre-95 Quads are harder to get performance parts for. 95-later is darn easy, and can pump some nice power numbers.
Yeah, like they all say above about the duke not being that costly, sure, you'll come across a good deal here and there, but it's rare.
I found dozens of Ecotecs for sale at car-part.com for under $700. All of which can take more than 300HP.
Yeah, performance parts are cheap too. A crank that can take 700HP is $985. For the duke, $1750.
Need I mention that the race teams use the STOCK BLOCK for their 1200HP motors.
That IHI turbo kit...the ticking time bomb of 1984.
88's, like mine, maybe they can handle 150HP, 180HP at the most, for short bursts.
The Cavalier race teams went slightly over 400HP on Nos WITH THE STOCK BLOCK before the rods shot out the side of the block.
They sustained it at 350HP, with slight signs that the motor didn't like it.
Yeah, it's a little difficult given there's no kit for Fiero's, but I plan to change that. When the project is done, I hope to sell a conversion on my site. I'll make custom cradles. Screw used ones, I'll make tubular steel ones, like heldmotorsports.com (their cradles rock!).
I'll even try to carry a few motors and trannys on hand.
And although I'm going to have the ECM by the back of the engine, like J-bodies, I'll make custom harnesses to mount the new ECM where the stock one is on Fiero's.
I'll make shift links too.
With the axles, those need to be customized, but I know a place that can make any axle you need. I just tell them Fiero spindle to 2002-up Cavalier tranny, and they can make it, so I'll keep a few of them handy.
Those are the basic components for a conversion to this motor.
My hope is to do a partnership deal with the company I got the turbo and manifold from, so that will make it easier to turbo the car.
If I can't, I'll have people buy the turbo and manifold from the source company, and I'll make custom piping and extra components.
But I'll start small, just making cradles, exhaust components, stuff that needs welding, which people don't like doing.
Wish me luck fighting the laws!

------------------
Nitrously yours,
Airman Michael C Casaceli
United States Navy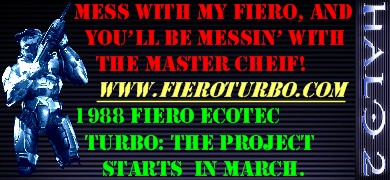 Will work for Race legal HKS boost controller and custom ECM.
[This message has been edited by fieroturbo (edited 01-01-2004).]