As previously mentioned, my 88 4 cylinder automatic was uninspiring as well.
Not only does the 4 cylinder have less power, the final drive of the '88 4 cylinder automatic tranny is 2.84, while the V-6 auto is 3.33 (I believe).
The 4 cylinder will rip along all day at 80 MPH, but it will take
half
the day getting up to that speed.
Mine was slow, but it's all better now.

(See sig.)
------------------
Raydar
88 3.4 coupe.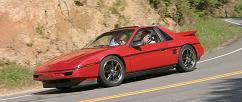 Coming soon...
88 Formula, presently under the knife.
[This message has been edited by Raydar (edited 11-21-2003).]